We are half the way done with 2017-2018 Winter; I would say more close to the end than to the beginning. 2017 was an excellent year for the automotive industry, with around 2,040,000+ new vehicles sold in Canada. Yes, more than 2 million new cars were sold last year, a 4.5% more than 2016, making it the year with the most sales ever. The market is huge, the competition is giant too, so manufacturers are careful with the offers: prices are almost the same as January 2018. So our monthly market review is pretty similar to the one made last month. Here are the best new car deals in Canada for February 2018.
Main Residential Area's Offers
And we have finally gone into the "city-specific" offers, more than only on the Canada wide ones. It is a fact that dealers locally present and launch offers, so we have to go to the specific city/town, but we have to limit to the main areas. Only in January, we received more than 50,000+ visits from more than 700+ different Canadian localities, so we had to reduce ourselves (so far) to the main eight ones: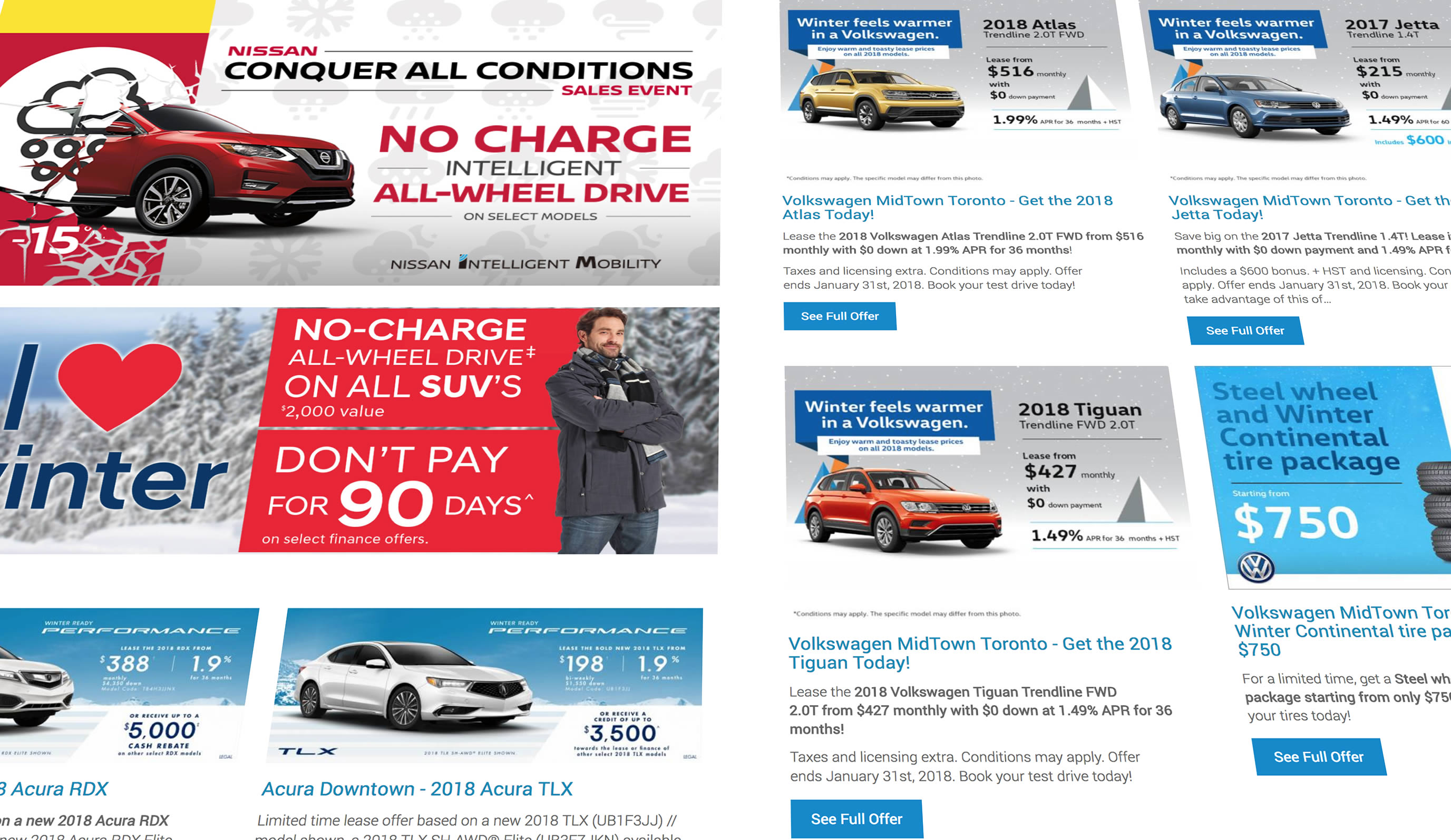 Special dealer discounts, cash down for specific models, the season offers, and provincial specials can be now found in our city-specific specials.
All specials can be found using our site-wide navigation and in the footer section of all pages.
Deal of the Month: Hyundai & Nissan SUVs with No Charge All Wheels Drive
And once again, like in January, both Nissan & Hyundai are offering no charge AWD (or an average 2,000 cash discount) on most of the SUV lineup. Both offers are valid until Feb 28th, making it an excellent opportunity if you were looking forward this month on getting a winter vehicle from those manufacturers. You can find the specific offer details in the following links:

Once again, the 2018 Rogue S ranks as the best deal of the month. It can be leased for the same 365 CAD/month tax. inc. for 5 years since past October (2017 Edition back then). This time we also include the 2018 Tucson AWD with a terrific deal starting at 396CAD/month tax. inc. when leased for 60 months.
Best Compact/Small Car Deals in Canada
Looking for the best compact car alternatives? AWD compact vehicles are the top alternatives out there right now:
2018 Subaru Impreza 2.0i AWD Sedan starting at 392CAD/month tax. inc.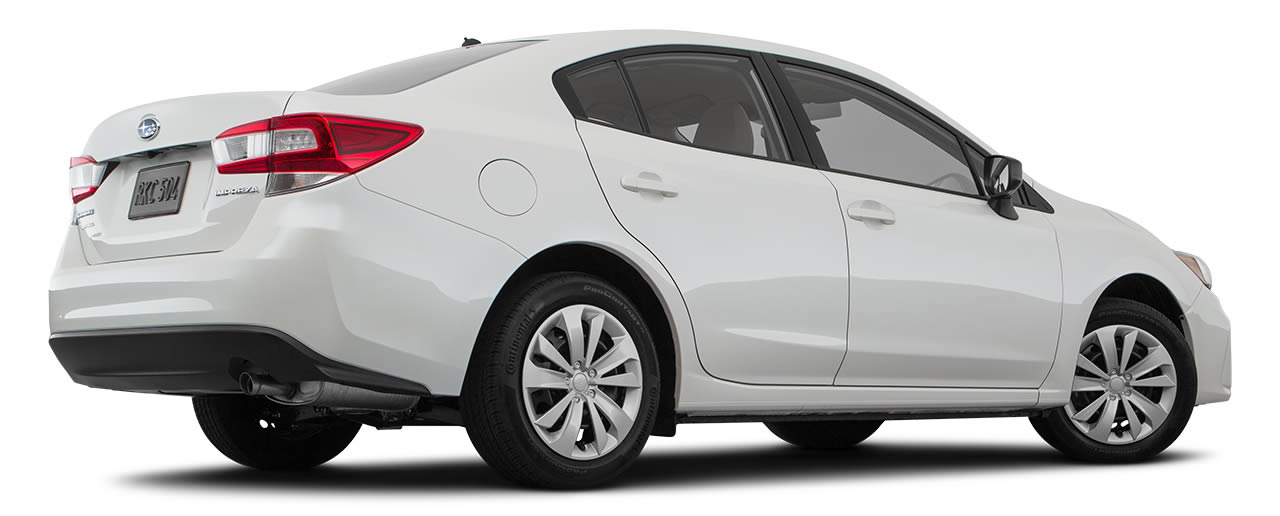 Subaru sold around 54,000 vehicles during 2017 in Canada and almost 650,000 in the U.S. Among those, more than 10,000 were Imprezas in the Canadian territory. This month, it can be leased for 3 years at 392CAD/month tax. inc.
2018 Subaru Legacy AWD CVT starting at 450CAD/month tax. inc.

While not as popular as the Impreza, the mid-size sedan 2018 Subaru Legacy is well known for its performance on the snow and ease of use on urban areas. With around 2,500 sales during 2017, the new 2018 Legacy can be leased for 450 CAD/month tax inc. when signed for 36 months.
More Compact Car Alternatives for February 2018
Best SUV Deals in Canada
SUVs are the most popular requested vehicles at LeaseCosts and among the Canadian audience, in general. I always point out to read the full 2018 SUV Canada Market Review for a more detailed overview:
2018 Nissan Rogue S starting at 365CAD/month tax. inc. (no charge AWD available)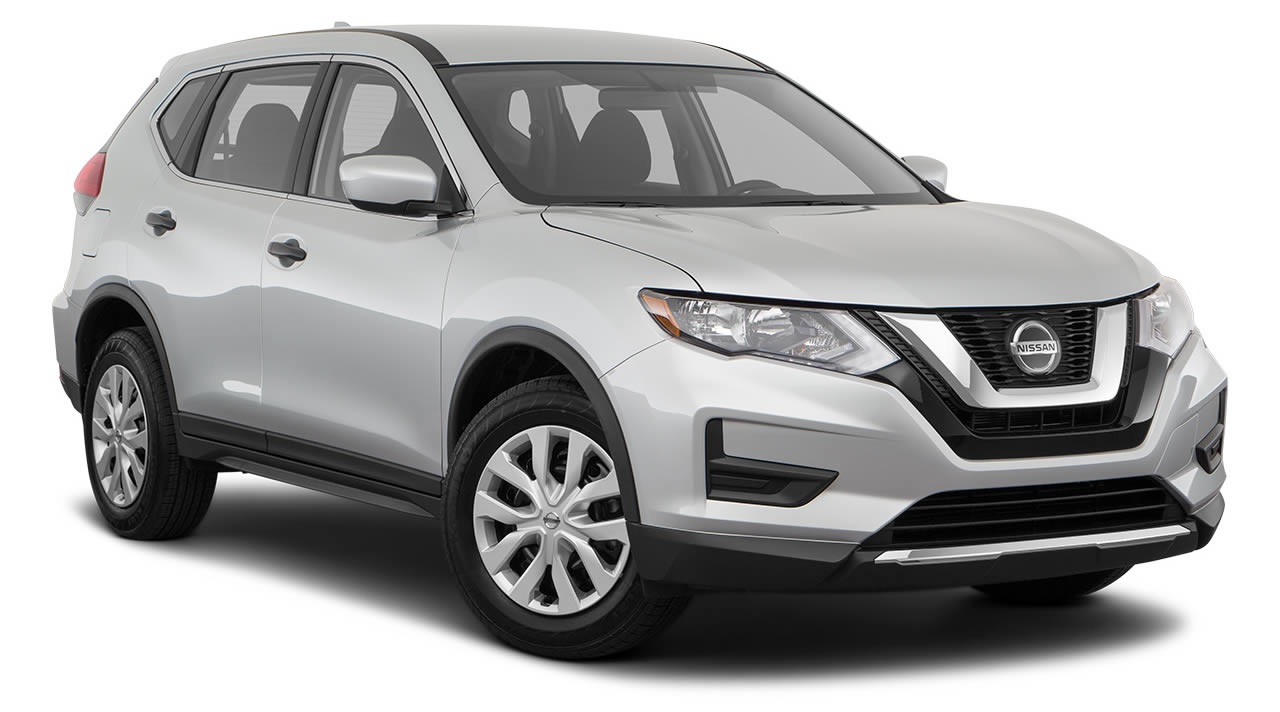 Maintaining the same price since November, the new 2018 Nissan Rogue S starts 365CAD/month tax. inc. for 60 months on the base model. We have already mentioned it in the previous section.
2018 Hyundai Tucson AWD starting at 396CAD/month tax. inc.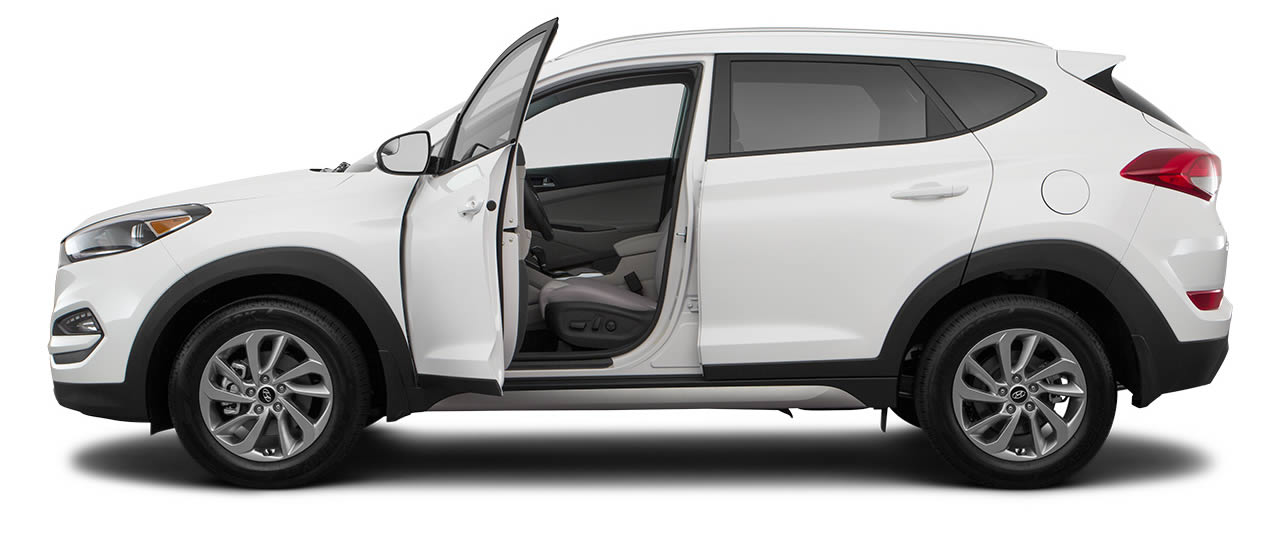 The new Tucson ranks as Canada's #2 offer, right after the Rogue. The Hyundai Crossover is available starting at 396CAD/month tax. inc. for the 60 months lease. Please also note that Hyundai offers a 5 years warranty for new vehicles.
2018 Subaru Crosstrek Automatic starting at 405CAD/month tax. inc. x 36 months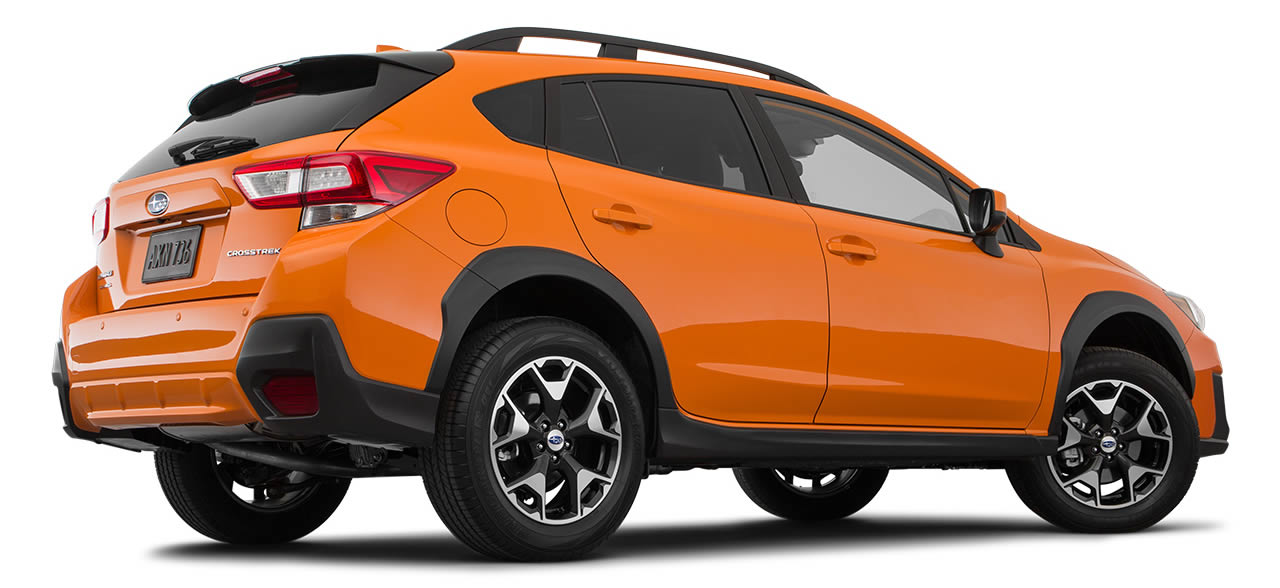 And once again, the Crosstrek, with 8,800 sales in Canada and more than 110,000+ in the U.S. during 2017. it can be leased for 36 months at the same price for the past 3 months: 405CAD/month tax. inc.
More SUV Deals for February 2018
Best Luxury Vehicles Deals in Canada
Luxury vehicle's offers remain to be the same as last month. While we only feature the Q5 in our featured section, the A4 also continues as the best price in the past 6 months:
2018 Audi Q5 Quattro Automatic at 751CAD/month tax. inc. x 60 months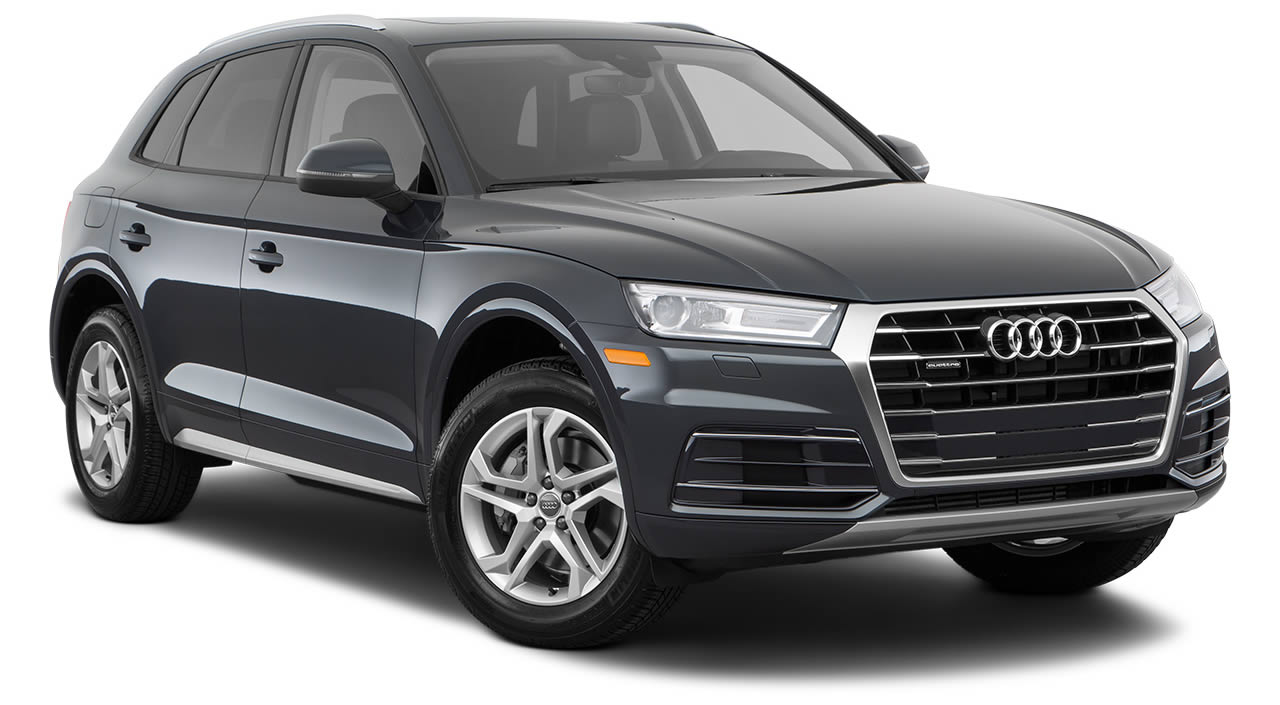 Audi Canada sold 7,500 Q5 units during 2017 and more than 50,000 in the U.S. It can be leased for 3 years starting at 751CAD/month.
2018 Audi A4 Sedan Quattro Automatic starting at 747CAD/month tax. inc. x 36 months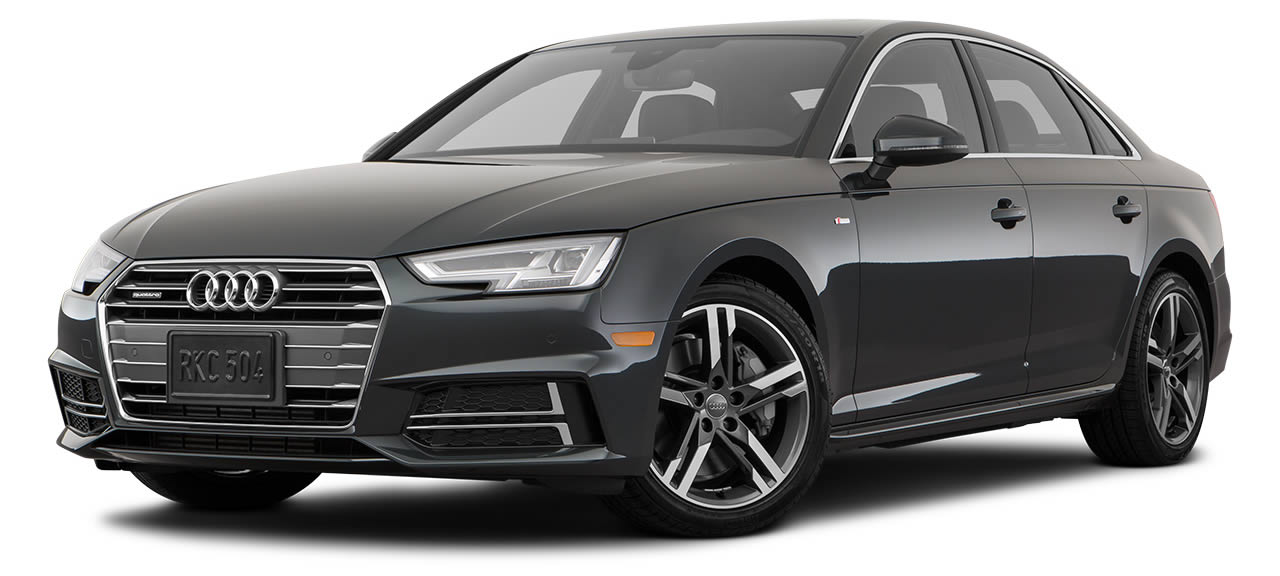 With 7,000 sales during 2017, the 2018 Audi A4 Sedan starts (again) at 747CAD/month on a 3 years contract. The same price as in the last 7 months.
More Luxury Deals: Compact Cars/Sedans for February 2018
More Luxury Deals: SUVs for February 2018
The Market Almost Didn't Change
Things remained the same, just like if January would have double the length and lasts until the day before March 1st. So, no big surprises, only the same prices.