And we are late this month! Sorry about that but a lot of good things were happening at LeaseCosts, and we had to deal with all of these at the same time. We use to release our monthly market reviews usually between the 6th and the 10th of each month at this time it got us at the 14th. But here we are, enjoying this early 2018 summer and ready to present the latest updates and best new car deals in Canada for the month of may 2018:
The All-New Lease Takeover Marketplace
First of all, we are very happy to announce that we have just launched our brand new Lease Takeover Marketplace. Lots of our visitors were asking about it and, in the end, that is what LeaseCosts is about: either a new car lease, a car lease transfer or a demo vehicle leased under "leasing conditions", we will talk about it and bring it to you.
The new "marketplace" features an Explorer Tool (similar to the one we have for new car leasing) and a highlighted listing on top of the main market page. So now, you will have:
Level 1: Top deals countrywide.
Level 2: Specials around the area where you live.
Level 3: Lease Transfer vehicles available in your area too.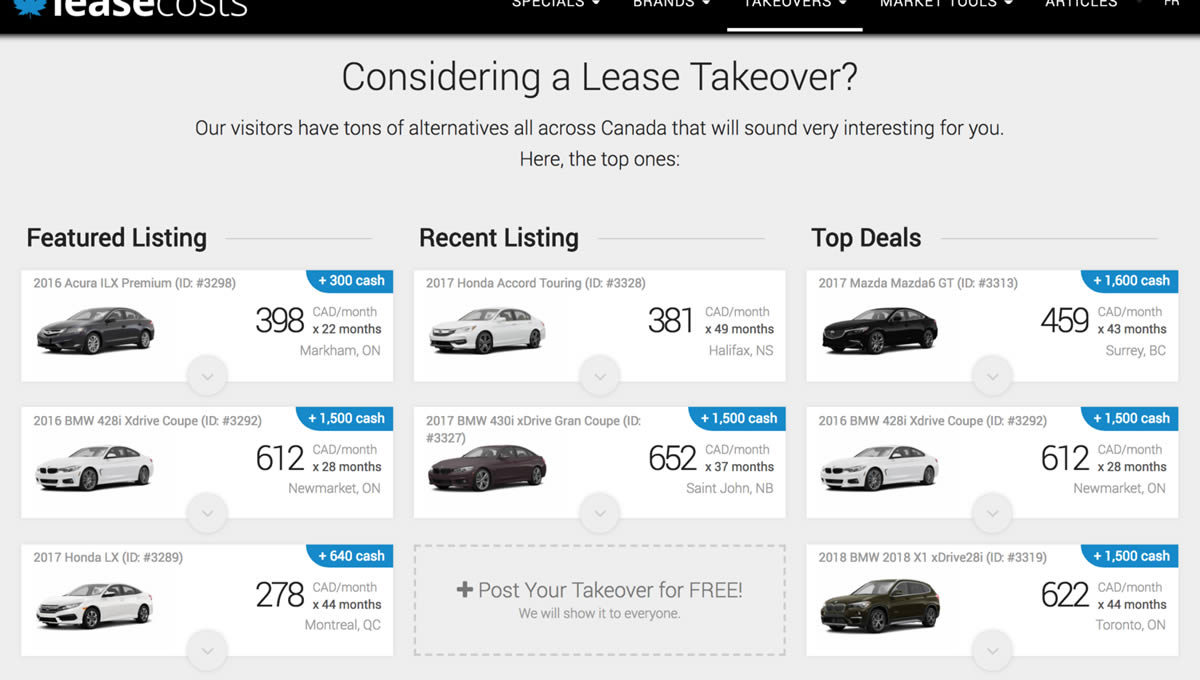 Lease Takeover deals will be featured all across LeaseCosts the same way we do with all manufacturer offers.
Basically, a wide-spread marketplace overview that will give you an entire set of alternatives to study, compare and come up with a final decision. Our new car marketplace will feature multiple kinds of "personal offers":
Supported listings for the new Marketplace:
Lease Takeover: these will populate most of our listings.
Finance Takeovers: technically, the difference between a Finance and a Lease takeover is that the Residual Value of the vehicle at the end of the term is 0CAD.
Dealership Demos Available for Lease: (not with 0 km on the odometer, but available for the dealer to be delivered as a lease)
We are very excited, and so are the dozens of visitors who have started to post their vehicles in our brand new Lease Takeover Marketplace. Starting next month, we will be featuring the best Lease Takeover deals available in our hub.
So, going back to the offers, here we are:
Best Compact/Small Car Deals in Canada
Although we feature AWD models mostly during Winter, remember LeaseCosts is primarily about pricing and affordability and then, customer preference, features, and trims. When AWD models come up at better competitive prices, we throw these too on the frying pan, but we always start from a pricing (with same features) approach.
OK, so... Compact car deals! Here we go:
2018 Nissan Sentra S CVT starting at 236CAD/month tax. inc. x 60 months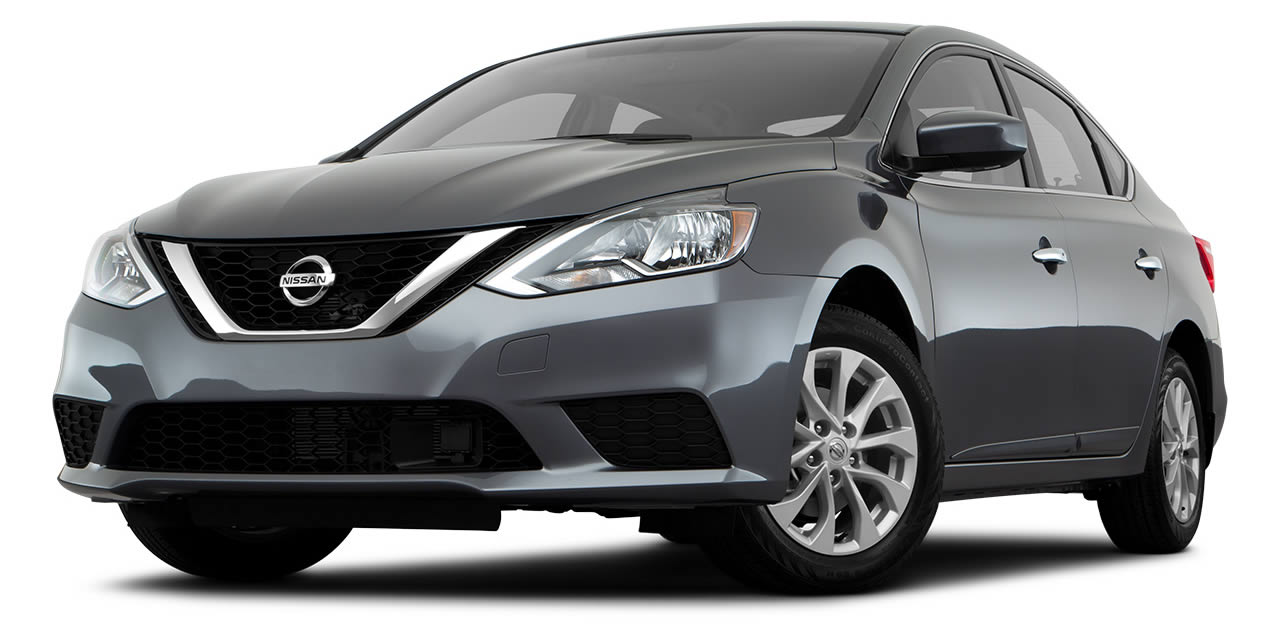 The 2018 Sentra is back again in the game with a very attractive price. Perfect alternative for young people, small families, and affordable budgets, the Sentra can be leased this month starting at 236CAD/month tax. Inc. when leased for 60 months and combined with insurance costs (approx. 66CAD/month) the overall budget for this vehicle sticks to the 300CAD/month pocket.
2018 Toyota Corolla CVT starting at 249CAD/month tax. inc. x 60 months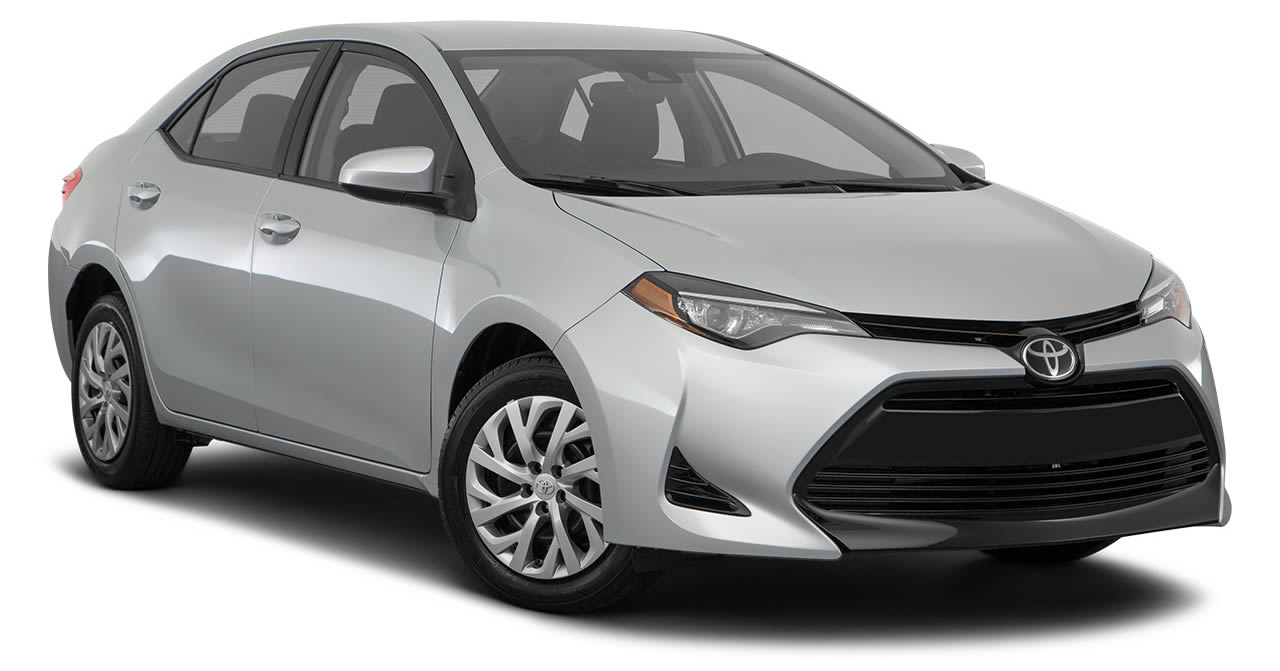 Toyota's compact flagship is also back again in the game. If you are going after a more robust residual value and reliable approach, then I would suggest you consider the Corolla. It starts this month at 307CAD/month tax. inc. when leased for 60 months (a price close to some compact SUV) and the average insurance costs start at around 75CAD/month.
More Compact Car Alternatives for May 2018
Best SUV Deals in Canada
In the SUVs sector, we have a multiple-times repeating ranking again in #1: the Nissan Rogue.
2018 Nissan Rogue S starting at 355CAD/month tax. inc. x 60 months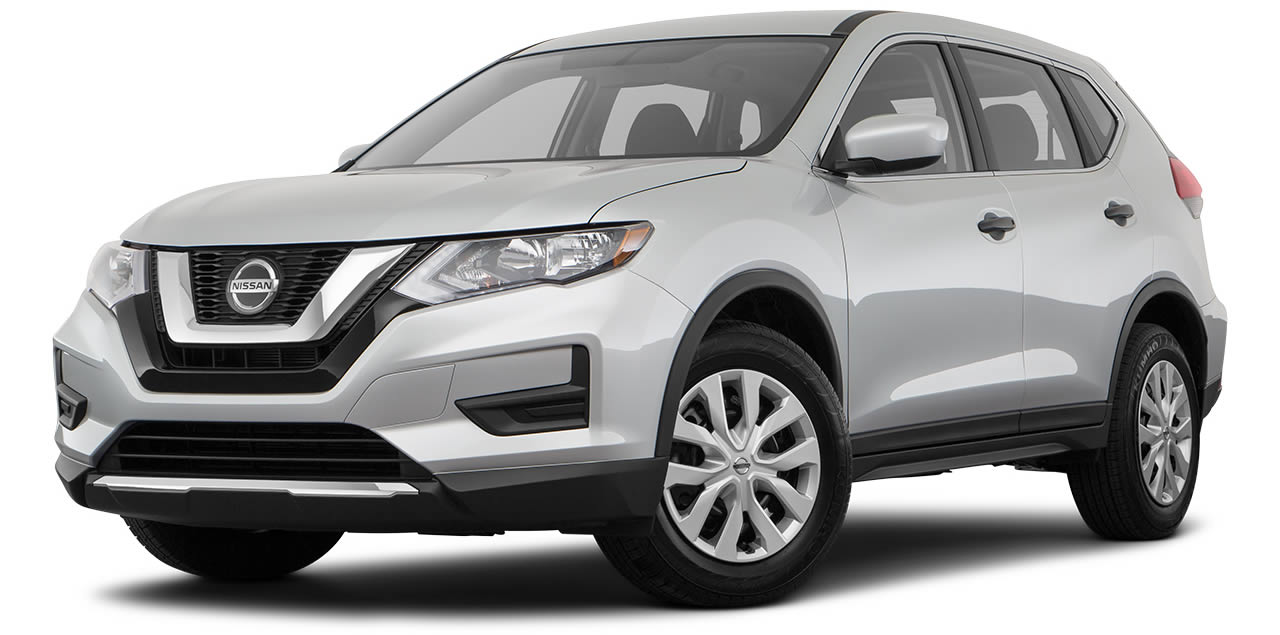 Back again into the lists, the most famous SUV in Québec since 2015, the 2018 Nissan Rogue S starts at 355CAD/month tax. inc. for 60 months on the base model (S FWD). The Rogue remains as the king of the balance between features, costs and weather conditions versatility.
2018 Jeep Grand Cherokee starting at 598CAD/month tax. inc. x 60 months

And for the first time in our lists, the Grand Cherokee makes an impressive price drop of about 3,000, in case you had it on your watchlist. The AWD Laredo Edition can be leased in May 2018 starting at 598CAD/month tax. inc. for 60 months. Insurance costs begin at around 110CAD/month.
2018 Hyundai Kona Automatic starting at 378CAD/month tax. inc. x 60 months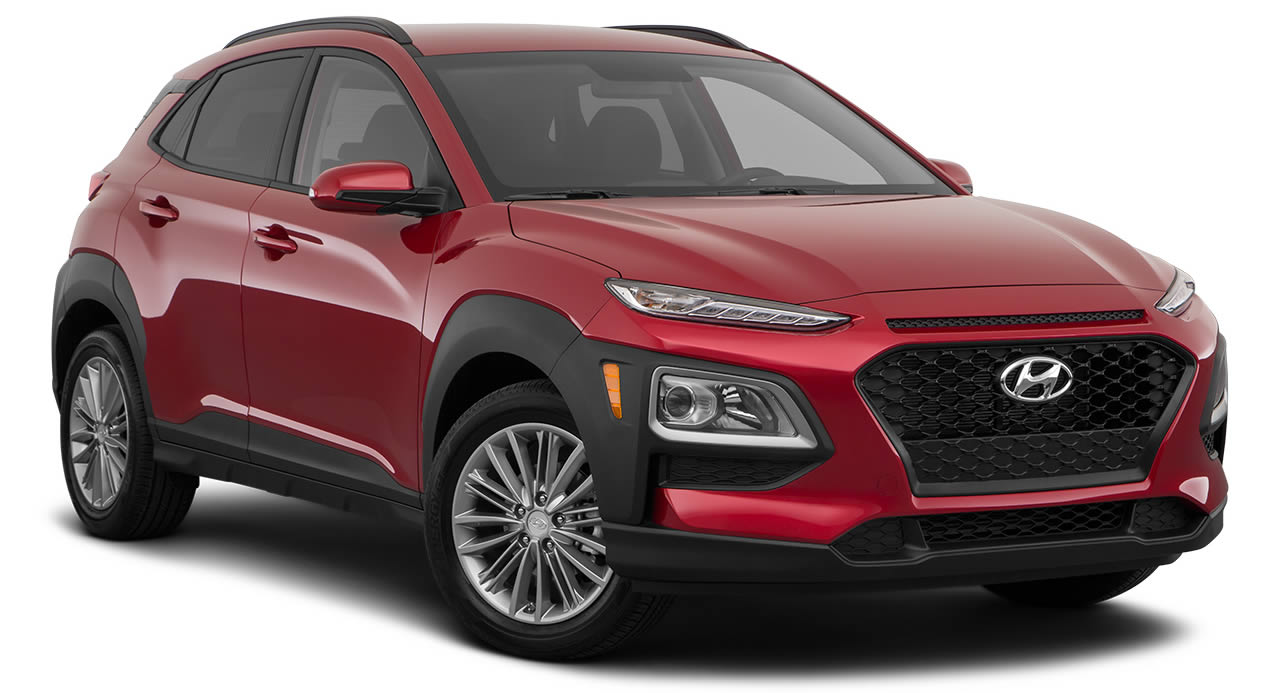 And on the third position, the most complete SUV crossover available in North America, the 2018 Hyundai Kona, can be leased at around 380CAD/month tax. inc. (Québec sales tax) when leased for the 60 months that it comes with the available warranty by Hyundai Canada. An amazing deal! There are multiple people that acquired it in my neighborhood and their impressions of the vehicle are 10/10.
More SUV Deals for May 2018
Best Luxury Vehicles Deals in Canada
And just like four months ago, a couple of "Audis" make it back again to the top positions: (I personally love Audi ;) )
2018 Audi A4 Sedan Quattro Automatic starting at 767CAD/month tax. inc. x 36 months

So popular that you can find it either for transfer, for sale, on the streets, and in the new car offers. The A4 is starting at 767CAD/month on a three years (full coverage) contract. Once again, the top offer to be found in the luxury sector this month.
2018 Audi Q5 Quattro Automatic at 785CAD/month tax. inc. x 36 months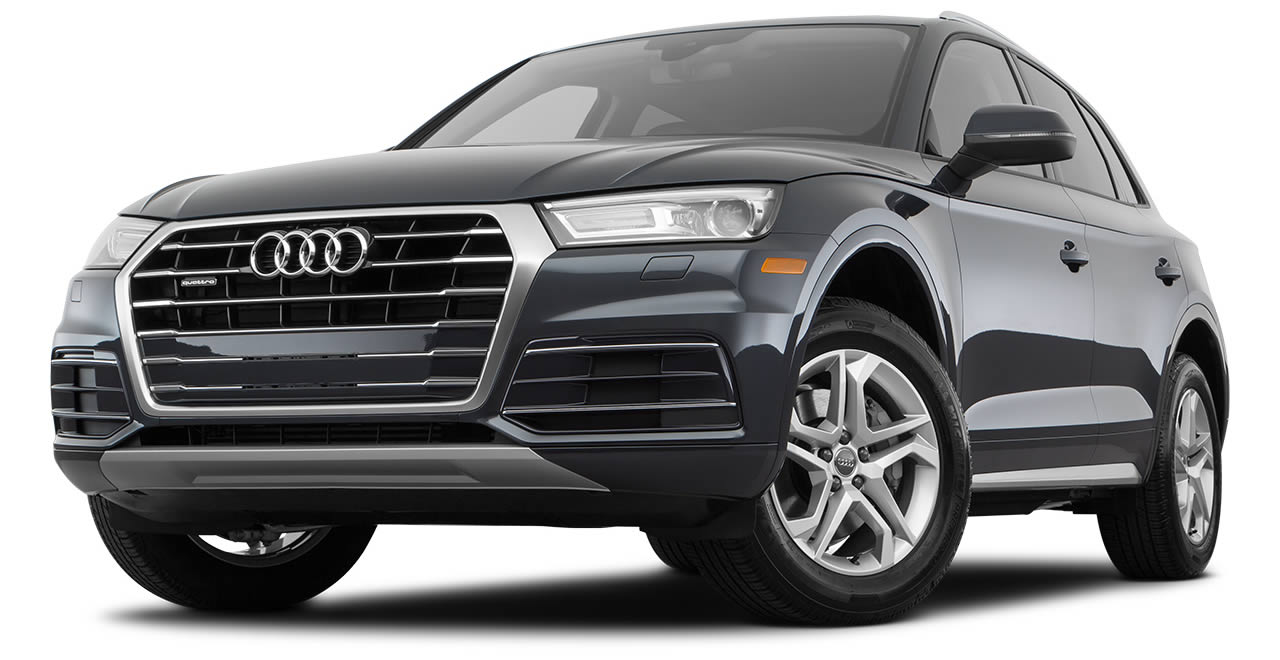 The 2018 Q5 can be leased for 36 months starting at 785CAD/month (also with full warranty coverage). Insurance averages are around 95CAD/month for a total monthly cost averaging 800CAD/month with no downpayment.
More Luxury Deals: Compact Cars/Sedans for May 2018
More Luxury Deals: SUVs for May 2018
Enjoy the Summer!
It is early, but summer is "kind of" here. And so is coming the high sale season. If somehow you think it is an excellent moment to either transfer your current contract and start looking for your next car, remember here we are to help you enjoy the summer.