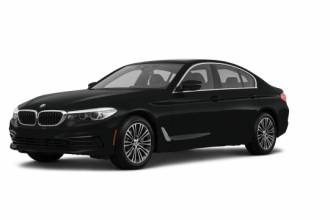 CAD/month x 44 months
2020 BMW 530e Premium Package + M Sport package (ID: #20056)
783
2020 BMW
530e Premium Package + M Sport package Automatic AWD w/ Premium Essential Package + Wireless Charging/ ext Bluetooth,
Payment Details
Current Payment: 783 CAD/month + tax
Residual Value: 23,892 CAD
Months to End: 44 months (Oct, 2024)
Vehicle Status
Contract Allowance: 16,000 km/year
Current Odometer: 90 km total
Available Now: 17,430 km/year (1,453 per month)
Excess Km Cost: 0.25 CAD/km
782.77
CAD/month
in Montreal, QC
Before Taxes:

782.77 CAD/month
361.28 CAD/bi-weekly
180.64 CAD/week
9,393.24 CAD/year
Incl. Québec Taxes (14.98%):
900.03 CAD/month
415.40 CAD/bi-weekly
207.70 CAD/week
10,800.35 CAD/year
Estimate Insurance Costs
Avoid surprises and lock your insurance offer now! Quote how much you will have to pay and get the best insurance company to bid for your contract.
powered by

Lease Takeover/Buyout Analysis
The Lease Takeover Analysis "Leasing Purposes" section is an impartial review made by a Lease Takeover Specialist from LeaseCosts Canada Inc. and should be used as reference. (Learn more)
For Leasing Purposes
With this deal, you are saving:
17,512 CAD
compared to leasing a BRAND NEW:
BMW 530e xDrive Sedan
for 48 months
in QC
$0 down payment
16,000 km/year
Savings Breakdown:

| | |
| --- | --- |
| Leasing New (CAD/month) | 1,180 |
| This Contract (CAD/month) | 783 |
| Monthly Difference | 398 CAD/month |
| Remaining Term | x 44 months |
| Total Monthly Difference | = 17,512 CAD |
| Total Savings (CAD) | = 17,512 |
For Buyout Purposes
To own this vehicle today (buying it as a used car) would cost:
58,334 CAD
Total Vehicle Debt: 61,465 CAD
Paid so Far: 3,131 CAD (5% Paid)
Remaining Lease Payments: 34,442 CAD
Residual Value: 23,892 CAD
Cash Incentive: 0 CAD
Vehicle Debt & Value
Paid so far: 3,131 CAD
Total Vehicle Value: 61,465 CAD
Vehicle Debt Breakdown
Downpayment: 0 CAD
Remaining Term: 34,442 CAD
Term Paid so Far: 3,131 CAD
Residual Value: 23,892 CAD
Cost to Own
Already Paid: 3,131 CAD (5%)
Cash Incentive: 0 CAD Buyout Price Today: 58,334 CAD
Interested on financing the vehicle? This section automatically calculates the following scenarios: (Learn more)
Finance the remaining Debt Today
Remaining Term + Residual Value: 58,334 CAD
4.9%

Interest Rate x 48 months
1,341 CAD/month + tax
Total Payable: 64,356 CAD
Total Interest: 6,022 CAD
8.9%

Interest Rate x 48 months
1,449 CAD/month + tax
Total Payable: 69,546 CAD
Total Interest: 11,212 CAD
14.9%

Interest Rate x 48 months
1,621 CAD/month + tax
Total Payable: 77,785 CAD
Total Interest: 19,451 CAD
---
At the end of the Lease Contract
Residual Value: 23,892 CAD (in 44 months)
4.9%

Interest Rate x 48 months
549 CAD/month + tax
Total Payable: 26,358 CAD
Total Interest: 2,466 CAD
8.9%

Interest Rate x 48 months
593 CAD/month + tax
Total Payable: 28,484 CAD
Total Interest: 4,592 CAD
14.9%

Interest Rate x 48 months
664 CAD/month + tax
Total Payable: 31,859 CAD
Total Interest: 7,967 CAD
Business Vehicle Analysis
This section is very important if you are interested in the vehicle for Uber, Lyft, Turo, Getaround, vehicle rental or for a business. (Learn more)
Distance Analysis
Cost to drive 100km: (CAD)
(or 0.54CAD per km)
58.71CAD/100km (Original Contract back in Oct, 2020)
Time Analysis
Cost per day: (CAD)
25.73
+ tax
+ insurance
+ km driven & fuel
(0.07CAD savings per every 100CAD of incentive)
Remaining Km
Can be driven up to:
335.19
km/week
without any
additional costs
Excess km cost: 0.25CAD
307.69km/week (Contract Original back in Oct, 2020)
Name: Laurent Maman
Location: Montreal, QC
Date Contract Started:
Date Contract Ends:
---
BMW 530e BRAND NEW! Incredible deal loaded with Premium package and Wireless charging pack! Over 17,000$ in discounts!! Mileage and term can be changed to your preference. Contact me now for more info