Improving our the value of the tools we provide to our customers is a critical factor for LeaseCosts. As we progressively do, we have launched a new tool in our Lease Takeover Marketplace: the Business Vehicle Analysis. Either if you are looking for a car for Uber, Lyft, Turo, Getaround, doing your own vehicle rental or only for a business, you will find this very useful.
Different Points of View
People buy cars for various reasons and purposes. First, we start from a transportation need: either for personal, family, or business needs, you are on the search for a vehicle. But then, some specific reasons may bend your decision towards a particular case. This new tool focuses on how each lease takeover contract fits into the business side of things, although it does also can provide handy insights on personal use cases.
The following three sections are available to all our thousands of customers and will focus on describing how each specific deal adapts to each particular scenario:
Distance Analysis (cost per 100km)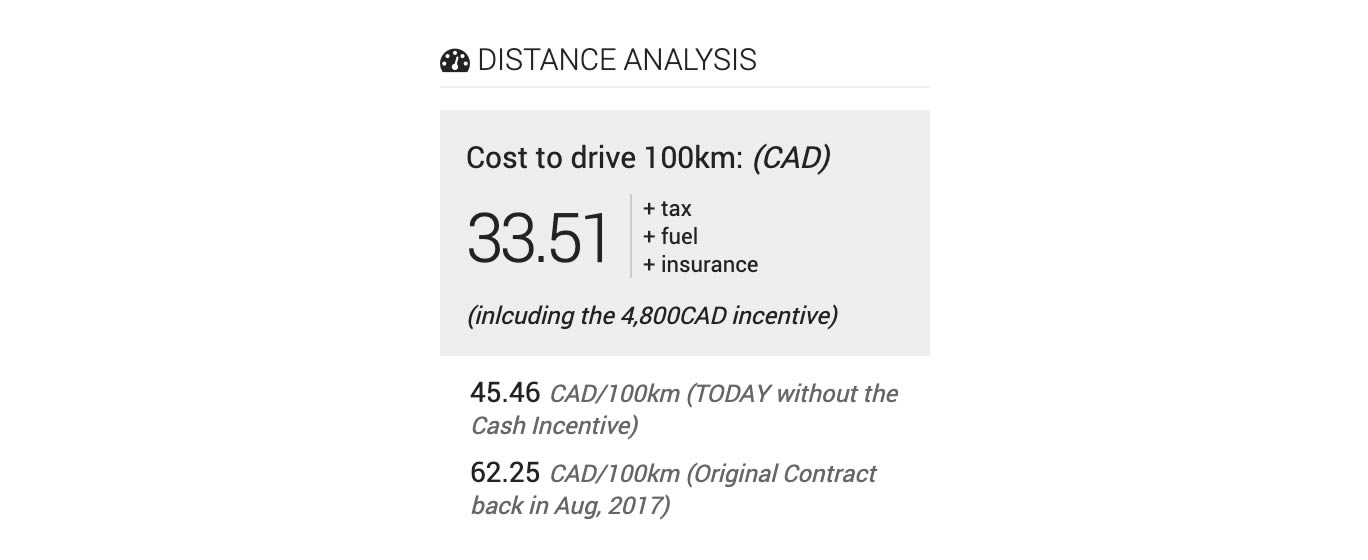 If you are interested in doing Uber, Turo, or virtually any kind of rental, it is essential to know how much will cost you to drive. We have simplified the math (LeaseCosts signature) to show you the specific cost to drive 100km under three different scenarios:
The current cost.
The current cost in case no incentive is offered.
The original contract cost.
That way, you can know that, for example, if you are interested in renting the vehicle in Turo, you can have a clear idea of how much will cost you to offer the car with 200km every day to your customers. Also knowing how these costs have performed over time can give you a clear idea of how good this deal is for you.
Time Analysis (cost per day)

The price per day is pretty simple. Each vehicle contract is signed for a specific term and with a fixed monthly payment amount. If we multiply it, we get the total we will pay, let's say, after four years. But if we split it down, we can get the daily cost of having the vehicle, either if it is rolling or not.
If you are either interested in a vehicle for resale, or to list it in your rental inventory, or have a daily budget for an extended period, we can help you with the math. Also, if a cash incentive is offered, we can also show you how much it varies compared to the original contract.
Remaining Kilometers (km per week)

Daily commuters! Here is your ideally suited tool! Yes, we all need to know. Kilometers allowance is one of the key factors on lease takeovers. This is where you can really know if a contract is a good fit or not for you. This is the value where you can deeply analyze if the deal is as good as it seems and will work for you.
Available Now on all Listings
We are happy to announce that the new Business Vehicle Analysis is available since Sep 19th, 2019 on all listings for free! It is being displayed between the Lease Takeover Analysis and the Seller contact info sections.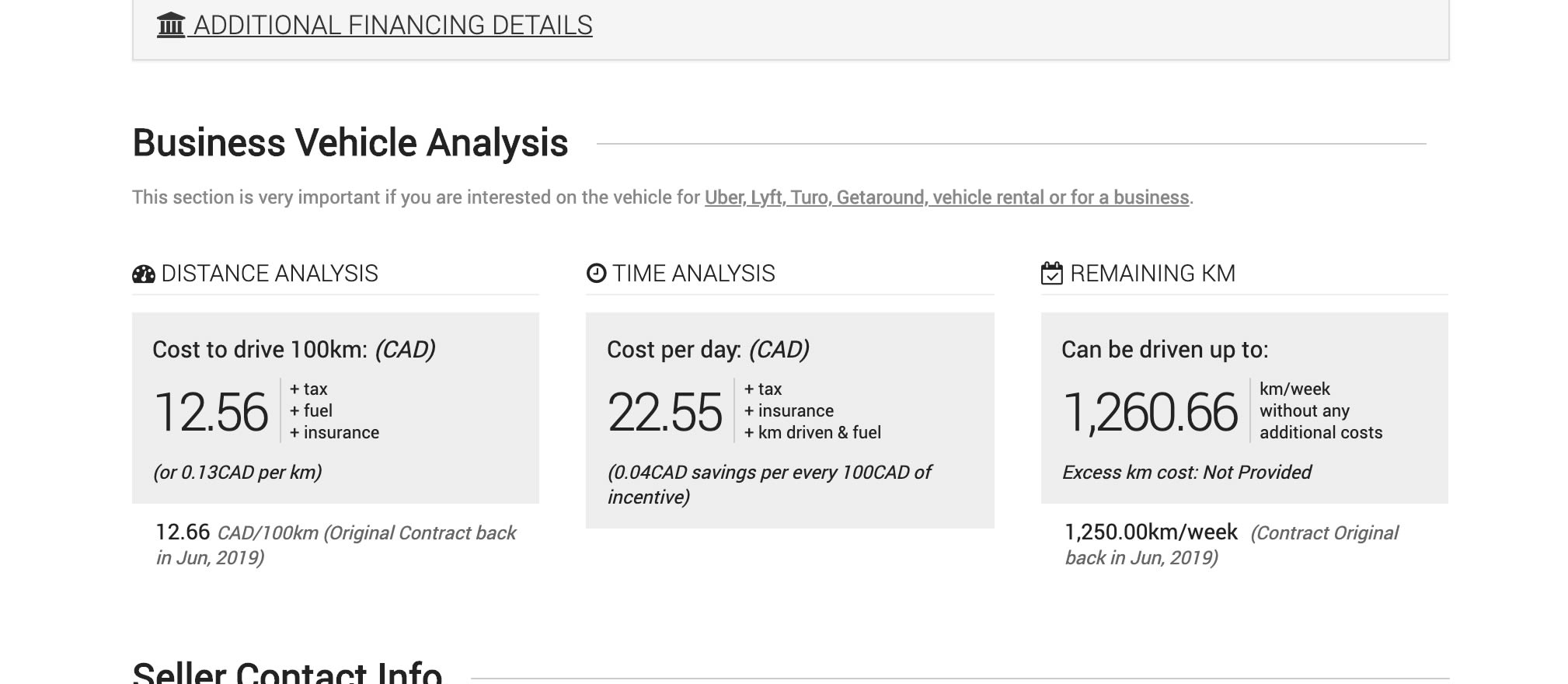 Sample on a Tesla Model 3 Lease/Finance Takeover in Montreal, QC.
If you are looking for a good deal in Canada or want to transfer your car lease/finance contract, wait no more: