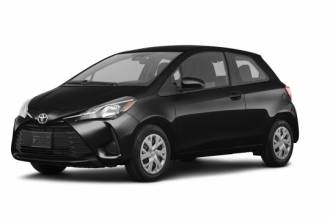 CAD/month x 46 months
2018 Toyota Yaris HB (ID: #8407)
301
2018 Toyota
Yaris HB Automatic 2WD
Payment Details
Current Payment: 301 CAD/month + tax
Residual Value: 6,764 CAD
Months to End: 46 months (Aug, 2023)
Vehicle Status
Contract Allowance: 20,000 km/year
Current Odometer: 12,000 km total
Available Now: 22,522 km/year (1,877 per month)
Excess Km Cost: 0.07 CAD/km
300.88
CAD/month
in Montreal, QC
Before Taxes:

300.88 CAD/month
138.87 CAD/bi-weekly
69.43 CAD/week
3,610.56 CAD/year
Incl. Québec Taxes (14.98%):
345.95 CAD/month
159.67 CAD/bi-weekly
79.84 CAD/week
4,151.42 CAD/year
Estimate Insurance Costs
Avoid surprises and lock your insurance offer now! Quote how much you will have to pay and get the best insurance company to bid for your contract.
powered by

Lease Takeover/Buyout Analysis
The Lease Takeover Analysis "Leasing Purposes" section is an impartial review made by a Lease Takeover Specialist from LeaseCosts Canada Inc. and should be used as reference. Learn more.
For Leasing Purposes
With this deal, you are saving:
3,992 ~ 5,292 CAD
compared to leasing a BRAND NEW:
2019 Yaris Hatchback 5DR
for 48 months
in Québec
$0 down payment
24,000 km/year
Savings Breakdown:

| | |
| --- | --- |
| Leasing New (CAD/month) | 352 |
| This Contract (CAD/month) | 301 |
| Monthly Difference | 52 CAD/month |
| Remaining Term | x 46 months |
| Total Monthly Difference | = 2,392 CAD |
| + Winter Tires Cost (CAD) | + 800 ~ 1,200 |
| + Wear & Tear Coverage (CAD) | + 800 ~ 1,700 |
| Total Savings (CAD) | = 3,992 ~ 5,292 |
For Buyout Purposes 3
To own this vehicle today (buying it as a used car) would cost:
20,604 CAD
Total Vehicle Debt: 24,516 CAD
Paid so Far: 3,911 CAD (15% Paid)
Remaining Lease Payments: 13,840 CAD
Residual Value: 6,764 CAD
Cash Incentive: 0 CAD
Vehicle Debt & Value
Paid so far: 3,911 CAD
Total Vehicle Value: 24,516 CAD
Vehicle Debt Breakdown
Downpayment: 0 CAD
Remaining Term: 13,840 CAD
Term Paid so Far: 3,911 CAD
Residual Value: 6,764 CAD
Cost to Own
Already Paid: 3,911 CAD
Cash Incentive: 0 CAD Buyout Price Today: 20,604 CAD
Finance the remaining Debt Today
Remaining Term + Residual Value: 20,604 CAD
2.9%

Interest Rate x 48 months
455 CAD/month + tax
Total Payable: 21,847 CAD
Total Interest: 1,243 CAD
4.9%

Interest Rate x 48 months
474 CAD/month + tax
Total Payable: 22,732 CAD
Total Interest: 2,127 CAD
5.9%

Interest Rate x 48 months
483 CAD/month + tax
Total Payable: 23,182 CAD
Total Interest: 2,577 CAD
---
At the end of the Lease Contract
Residual Value: 6,764 CAD (in 46 months)
2.9%

Interest Rate x 48 months
149 CAD/month + tax
Total Payable: 7,172 CAD
Total Interest: 408 CAD
4.9%

Interest Rate x 48 months
155 CAD/month + tax
Total Payable: 7,462 CAD
Total Interest: 698 CAD
5.9%

Interest Rate x 48 months
159 CAD/month + tax
Total Payable: 7,610 CAD
Total Interest: 846 CAD
Name: Kayla David-Pierre
Location: Montreal, QC
Phone:

514-909

-XXXX (REVEAL NUMBER)
Email Address:

kayladavidpierre

[at]

hotmail.com

Date Contract Started:
Date Contract Ends:
Excess Wear and Tear Partial Waiver Addendum:
If the Vehicle has been driven less than an average 30,000 kilometres per year (calculated over the Lease Term), Toyota Credit will waive your total responsibility for excess wear and tear changes, if any at Lease termination, up to a maximum waiver amount of CDN $4,000(inclusive of applicable taxes).
If the the Vehicle has been driven more than average of 30,000 kilometres per year than its CDN $2,000( inclusive of applicable taxes).
More details available upon request.


Extra Care Protection:
Benefit Program - *3 Years Maintenance Service Program *
More details upon request.

* Vehicle features standard a back up camera, heated seats option, collision migration braking systems, lane departure alert. *