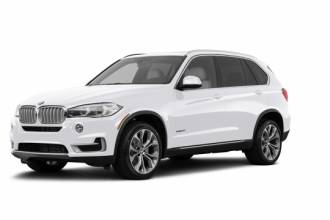 CAD/month x 27 months
2017 BMW X5 xDrive35i (ID: #4035)
1,152
2017 BMW
X5 xDrive35i Automatic AWD w/ M Sport Line, Driver Assistance Package, Premium Package Enhanced, Smartphone Connectivity Package, LED Lighting Package, 20inch M Double-Spoke LT Alloy + No Charge Scheduled Maintenance 4yr/80k & Warranty Complete Term + Wear & Tear Coverage
Payment Details
Current Payment: 1,152 CAD/month + tax
Residual Value: 39,672 CAD
Months to End: 27 months (Oct, 2021)
Vehicle Status
Contract Allowance: 24,000 km/year
Current Odometer: 27,000 km total
Available Now: 30,667 km/year (2,556 per month)
Excess Km Cost: 0.25 CAD/km
Deal Special Perks
Perks are determined by LeaseCosts Canada Inc. and not by the person who listed the vehicle.
Contact Buyer
1,152.24
CAD/month
in Calgary, AB
Before Taxes:

1,152.24 CAD/month
531.80 CAD/bi-weekly
265.90 CAD/week
13,826.88 CAD/year
Incl. Alberta Taxes (5%):
1,209.85 CAD/month
558.39 CAD/bi-weekly
279.20 CAD/week
14,518.22 CAD/year
Estimate Insurance Costs
Avoid surprises and lock your insurance offer now! Quote how much you will have to pay and get the best insurance company to bid for your contract.
powered by

The Lease Takeover Analysis "Leasing Purposes" section is an impartial review made by a Lease Takeover Specialist from LeaseCosts Canada Inc. and should be used as reference. Learn more.
For Leasing Purposes
With this deal, you are saving:
8,765 ~ 9,665 CAD
compared to leasing a BRAND NEW:
2018 BMW X5 xDrive35i w/ M Sport Line, Premium Package Enhanced, Smartphone Connectivity Package, LED Lighting Package, 20inch M Double-Spoke LT Alloy, Mixed Tires, Fineline Oak Wood Trim, Driving Assistant
for 36 months
in Alberta
$0 down payment
24,000 km/year
Savings Breakdown:

| | |
| --- | --- |
| Leasing New (CAD/month) | 1,447 |
| This Contract (CAD/month) | 1,152 |
| Monthly Difference | 295 CAD/month |
| Remaining Term | x 27 months |
| Total Monthly Difference | = 7,965 CAD |
| + Wear & Tear Coverage (CAD) | + 800 ~ 1,700 |
| Total Savings (CAD) | = 8,765 ~ 9,665 |
For Buyout Purposes
To own this vehicle today (buying it as a used car) would cost:
70,782 CAD
Total Vehicle Debt: 94,980 CAD
Paid so Far: 24,197 CAD (25% Paid)
Remaining Lease Payments: 31,110 CAD
Residual Value: 39,672 CAD
Cash Incentive: 0 CAD
Vehicle Debt & Value
Paid so far: 24,197 CAD
Total Vehicle Value: 94,980 CAD
Vehicle Debt Breakdown
Downpayment: 0 CAD
Remaining Term: 31,110 CAD
Term Paid so Far: 24,197 CAD
Residual Value: 39,672 CAD
Cost to Own
Already Paid: 24,197 CAD
Cash Incentive: 0 CAD Buyout Price Today: 70,782 CAD
Finance the remaining Debt Today
Remaining Term + Residual Value: 70,782 CAD
2.9%

Interest Rate x 48 months
1,564 CAD/month + tax
Total Payable: 75,053 CAD
Total Interest: 4,270 CAD
4.9%

Interest Rate x 48 months
1,627 CAD/month + tax
Total Payable: 78,090 CAD
Total Interest: 7,307 CAD
5.9%

Interest Rate x 48 months
1,659 CAD/month + tax
Total Payable: 79,636 CAD
Total Interest: 8,854 CAD
---
At the end of the Lease Contract
Residual Value: 39,672 CAD (in 27 months)
2.9%

Interest Rate x 48 months
876 CAD/month + tax
Total Payable: 42,065 CAD
Total Interest: 2,393 CAD
4.9%

Interest Rate x 48 months
912 CAD/month + tax
Total Payable: 43,767 CAD
Total Interest: 4,095 CAD
5.9%

Interest Rate x 48 months
930 CAD/month + tax
Total Payable: 44,634 CAD
Total Interest: 4,962 CAD
Name: Vlad
Location: Calgary, AB
Phone:

403-667

-XXXX (REVEAL NUMBER)
Email Address:

vladiurasco

[at]

gmail.com

Date Contract Started:
Date Contract Ends:
X5 xDrive 35i
- No Charge Scheduled Maintenance 4yr/80k
- ZZJ - M Sport Line
- Z3E - Premium Package Enhanced
- ZTV - Smartphone Connectivity Package
- ZXT - LED Lighting Package
- 2PW - 20inch M Double-Spoke LT Alloy, Mixed Tires
- 4CV - Fineline Oak Wood Trim
- 5AS - Driving Assistant
- 688 - Harman Kardon Surround Sound System
- A96 - Mineral White Metallic
- LCSW - Black Dakota Leather, BMW Anti-Theft - 60, AMVIC
Fee, Battery Charger Installed, Freight/PDI - All Models, Excess Wear & Use Protection