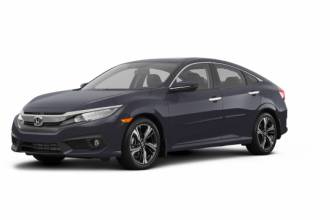 CAD/month x 26 months
2017 Honda Civic Touring (ID: #4092)
383
2017 Honda
Civic Touring Automatic AWD w/ Fully Powered with Panoramic Sunroof + Powered Seats + Heated Front and Rear Seat + Built in NAV + Pushstart + Remote Control Starter, Winter Mats & Winter Tires
Payment Details
Current Payment: 383 CAD/month + tax
Cash Incentive: 766 CAD
Payment After Incentive:

354 CAD/month + tax

Original Downpayment: 770 CAD
Residual Value: 12,920 CAD
Months to End: 26 months (Sep, 2021)
Vehicle Status
Contract Allowance: 20,000 km/year
Current Odometer: 23,000 km total
Available Now: 26,308 km/year (2,192 per month)
Deal Special Perks
Perks are determined by LeaseCosts Canada Inc. and not by the person who listed the vehicle.
Contact Buyer
383.00
CAD/month
in Richmond Hill, ON
Before Taxes:

383.00 CAD/month
176.77 CAD/bi-weekly
88.38 CAD/week
4,596.00 CAD/year
Incl. Ontario Taxes (13%):
432.79 CAD/month
199.75 CAD/bi-weekly
99.87 CAD/week
5,193.48 CAD/year
Estimate Insurance Costs
Avoid surprises and lock your insurance offer now! Quote how much you will have to pay and get the best insurance company to bid for your contract.
powered by

The Lease Takeover Analysis "Leasing Purposes" section is an impartial review made by a Lease Takeover Specialist from LeaseCosts Canada Inc. and should be used as reference. Learn more.
For Leasing Purposes
With this deal, you are saving:
3,828 ~ 4,228 CAD
compared to leasing a BRAND NEW:
Civic Sedan TOURING CVT
for 30 months
in Ontario
$0 down payment
20,000 km/year
Savings Breakdown:

| | |
| --- | --- |
| Leasing New (CAD/month) | 470 |
| This Contract (CAD/month) | 383 |
| Monthly Difference | 87 CAD/month |
| Remaining Term | x 26 months |
| Total Monthly Difference | = 2,262 CAD |
| + Cash Incentive** (CAD) | + 766 |
| + Winter Tires Cost (CAD) | + 800 ~ 1,200 |
| Total Savings (CAD) | = 3,828 ~ 4,228 |
| | ** "Cash Incentive" is not just a saving, it is physical money. |
For Buyout Purposes
To own this vehicle today (buying it as a used car) would cost:
22,112 CAD
Total Vehicle Debt: 32,074 CAD
Paid so Far: 9,196 CAD (28% Paid)
Remaining Lease Payments: 9,958 CAD
Residual Value: 12,920 CAD
Cash Incentive: 766 CAD
Vehicle Debt & Value
Paid so far: 9,196 CAD
Total Vehicle Value: 32,074 CAD
Vehicle Debt Breakdown
Downpayment: 770 CAD
Remaining Term: 9,958 CAD
Term Paid so Far: 8,426 CAD
Residual Value: 12,920 CAD
Cost to Own
Already Paid: 9,196 CAD
Cash Incentive: 766 CAD Buyout Price Today: 22,112 CAD
Finance the remaining Debt Today
Remaining Term + Residual Value: 22,112 CAD
2.9%

Interest Rate x 48 months
488 CAD/month + tax
Total Payable: 23,446 CAD
Total Interest: 1,334 CAD
4.9%

Interest Rate x 48 months
508 CAD/month + tax
Total Payable: 24,395 CAD
Total Interest: 2,283 CAD
5.9%

Interest Rate x 48 months
518 CAD/month + tax
Total Payable: 24,878 CAD
Total Interest: 2,766 CAD
---
At the end of the Lease Contract
Residual Value: 12,920 CAD (in 26 months)
2.9%

Interest Rate x 48 months
285 CAD/month + tax
Total Payable: 13,700 CAD
Total Interest: 779 CAD
4.9%

Interest Rate x 48 months
297 CAD/month + tax
Total Payable: 14,254 CAD
Total Interest: 1,334 CAD
5.9%

Interest Rate x 48 months
303 CAD/month + tax
Total Payable: 14,536 CAD
Total Interest: 1,616 CAD