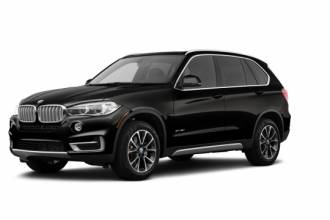 CAD/month x 14 months
2018 BMW X5 xDrive 35d (ID: #4451)
1,550
2018 BMW
X5 xDrive 35d Automatic AWD w/ M Sport Line+ Premium Package Enhanced+ Nappa Premium Seating + LED Lighting + Dynamic Adaptive Suspension + Driving Assistant Plus packages
Payment Details
Current Payment: 1,550 CAD/month + tax
Cash Incentive: 2,500 CAD
Payment After Incentive:

1,371 CAD/month + tax

Residual Value: 54,756 CAD
Months to End: 14 months (Jun, 2021)
Vehicle Status
Contract Allowance: 24,000 km/year
Current Odometer: 22,000 km total
Available Now: 53,143 km/year (4,429 per month)
Excess Km Cost: 0.25 CAD/km
1,549.76
CAD/month
in Toronto, ON
Before Taxes:

1,549.76 CAD/month
715.27 CAD/bi-weekly
357.64 CAD/week
18,597.12 CAD/year
Incl. Ontario Taxes (13%):
1,751.23 CAD/month
808.26 CAD/bi-weekly
404.13 CAD/week
21,014.75 CAD/year
Estimate Insurance Costs
Avoid surprises and lock your insurance offer now! Quote how much you will have to pay and get the best insurance company to bid for your contract.
powered by

Lease Takeover/Buyout Analysis
The Lease Takeover Analysis "Leasing Purposes" section is an impartial review made by a Lease Takeover Specialist from LeaseCosts Canada Inc. and should be used as reference. (Learn more)
For Leasing Purposes
With this deal, you are saving:
10,218 ~ 11,518 CAD
compared to leasing a BRAND NEW:
BMW X5 xDrive40i w/ Advanced Driving Assistant Package + M Sport Package + Premium Enhanced Package
for 24 months (note this contract is shorter)
in Ontario
$0 down payment
24,000 km/year (note this contract has way more
Savings Breakdown:

| | |
| --- | --- |
| Leasing New (CAD/month) | 1,986 |
| This Contract (CAD/month) | 1,550 |
| Monthly Difference | 437 CAD/month |
| Remaining Term | x 14 months |
| Total Monthly Difference | = 6,118 CAD |
| + Cash Incentive** (CAD) | + 2,500 |
| + Winter Tires Cost (CAD) | + 800 ~ 1,200 |
| + Wear & Tear Coverage (CAD) | + 800 ~ 1,700 |
| Total Savings (CAD) | = 10,218 ~ 11,518 |
| | ** "Cash Incentive" is not just a saving, it is physical money. |
For Buyout Purposes
To own this vehicle today (buying it as a used car) would cost:
73,953 CAD
Total Vehicle Debt: 119,846 CAD
Paid so Far: 43,393 CAD (36% Paid)
Remaining Lease Payments: 21,697 CAD
Residual Value: 54,756 CAD
Cash Incentive: 2,500 CAD
Vehicle Debt & Value
Paid so far: 43,393 CAD
Total Vehicle Value: 119,846 CAD
Vehicle Debt Breakdown
Downpayment: 0 CAD
Remaining Term: 21,697 CAD
Term Paid so Far: 43,393 CAD
Residual Value: 54,756 CAD
Cost to Own
Already Paid: 43,393 CAD
Cash Incentive: 2,500 CAD Buyout Price Today: 73,953 CAD
Interested on financing the vehicle? This section automatically calculates the following scenarios: (Learn more)
Finance the remaining Debt Today
Remaining Term + Residual Value: 73,953 CAD
4.9%

Interest Rate x 48 months
1,700 CAD/month + tax
Total Payable: 81,587 CAD
Total Interest: 7,634 CAD
8.9%

Interest Rate x 48 months
1,837 CAD/month + tax
Total Payable: 88,167 CAD
Total Interest: 14,214 CAD
14.9%

Interest Rate x 48 months
2,054 CAD/month + tax
Total Payable: 98,612 CAD
Total Interest: 24,659 CAD
---
At the end of the Lease Contract
Residual Value: 54,756 CAD (in 14 months)
4.9%

Interest Rate x 48 months
1,259 CAD/month + tax
Total Payable: 60,409 CAD
Total Interest: 5,653 CAD
8.9%

Interest Rate x 48 months
1,360 CAD/month + tax
Total Payable: 65,280 CAD
Total Interest: 10,524 CAD
14.9%

Interest Rate x 48 months
1,521 CAD/month + tax
Total Payable: 73,014 CAD
Total Interest: 18,258 CAD
Business Vehicle Analysis
This section is very important if you are interested in the vehicle for Uber, Lyft, Turo, Getaround, vehicle rental or for a business. (Learn more)
Distance Analysis
Cost to drive 100km: (CAD)
(inlcuding the 2,500CAD incentive)
34.99CAD/100km (TODAY without the Cash Incentive)
77.49CAD/100km (Original Contract back in Dec, 2017)
Time Analysis
Cost per day: (CAD)
45.08
+ tax
+ insurance
+ km driven & fuel
(inlcuding the 2,500CAD incentive)
50.95CAD/day (Original Contract back in Dec, 2017)
Remaining Km
Can be driven up to:
1,021.98
km/week
without any
additional costs
Excess km cost: 0.25CAD
461.54km/week (Contract Original back in Dec, 2017)
Name: Vadim
Location: Toronto, ON
Phone:

647-717

-XXXX (REVEAL NUMBER)
Email Address:

vadim.promotorov

[at]

gmail.com

Date Contract Started:
Date Contract Ends:
This car is the full package! This premium, all-wheel drive, SUV gives you power and performance, without sacrificing luxury or breaking the bank at the gas station.

Engine and Fuel Efficiency
Powered with a 3.5 diesel engine, this car is efficient while maintaining class and status. This car is well-suited for anyone who is constantly on the road, as diesel engines are extremely fuel-efficient and have higher torque power than other engines. As of 2018, BMW discontinued production of all diesel engines, making this car both unique and rare!

Performance
Whether you're looking for a quiet, comfortable ride or something sportier, the M Sport Line package features Adaptive M Suspension and Dynamic Active Suspension to create a smooth ride customized for your driving style. Choose between three different modes: comfort, sport or sport plus.

Exterior
Cruise in style with a sleek all-black exterior and black high-gloss 21-inch M alloy wheels. This SUV features a sophisticated LED Lighting Package with headlights that turn slightly in the same direction as the steering wheel to help you see more clearly. Headlight washers keep headlights clean with the push of a button.

Interior
Enjoy the beautiful summer months inside this luxury car. The Nappa Premium Seating Package features extra soft, ivory leather with ventilated seats, which means no more sticking to your leather seats in the heat! Roof is lined with soft, luxe Alcantara fabric, adding extra comfort and luxury to the interior of the car.

Open up your beautiful sunroof to enjoy the summer breeze and turn up the radio with the 6F2 Bang and Olufsen Sound System. This top-of-the-line, 1200-Watt immersive sound system, valued at $5000, gives you brilliant surround-sound with a sleek elegant design.

This luxury SUV offers a smartly hidden storage compartment with wireless phone charging. Your phone is conveniently within reach and charging on the go, without the hassle of extra wires. Car also offers WiFi Hotspot and Apple Car Play for those with iPhones.

Safety
This car features new and advanced Night Vision with Pedestrian Detection technology. Using far-infrared technology to scan for heat, this system adds extra protection when driving in the dark or in the rain. This car also features smart Driving Assistant technology that detects the distance from the car in front of you to prevent accidents.


Scheduled Maintenance
This one is a bonus just for you! SUV comes with No Charge Scheduled Maintenance 4 Yr / 80K package, with 1.5 years or 60K remaining. There are absolutely no fees when dropping off for scheduled maintenance and free refills of all car fluids at any time.

This is a beautiful, luxury, high-performance car with great new technology, must-have features, and incredible fuel-efficiency. This offer also comes with a $2500 cash incentive! That's right – a $2500 cash bonus! Don't miss out on the opportunity to have the car of your dreams for a great price!