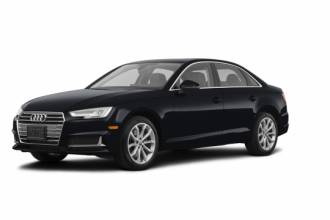 CAD/month x 33 months
2019 Audi A4 45 Technik (ID: #14694)
655
2019 Audi
A4 45 Technik Automatic AWD S Line black package
Payment Details
Current Payment: 655 CAD/month + tax
Original Downpayment: 625 CAD
Residual Value: 25,846 CAD
Months to End: 33 months (May, 2023)
Vehicle Status
Contract Allowance: 25,000 km/year
Current Odometer: 21,000 km total
Available Now: 28,727 km/year (2,394 per month)
Excess Km Cost: 0.15 CAD/km
Deal Special Perks
Perks are determined by LeaseCosts Canada Inc. and not by the person who listed the vehicle.
Click here to MAKE AN OFFER
654.64
CAD/month
in Oakville, ON
Before Taxes:

654.64 CAD/month
302.14 CAD/bi-weekly
151.07 CAD/week
7,855.68 CAD/year
Incl. Ontario Taxes (13%):
739.74 CAD/month
341.42 CAD/bi-weekly
170.71 CAD/week
8,876.92 CAD/year
Estimate Insurance Costs
Avoid surprises and lock your insurance offer now! Quote how much you will have to pay and get the best insurance company to bid for your contract.
powered by

Lease Takeover/Buyout Analysis
The Lease Takeover Analysis "Leasing Purposes" section is an impartial review made by a Lease Takeover Specialist from LeaseCosts Canada Inc. and should be used as reference. (Learn more)
For Leasing Purposes
With this deal, you are saving:
14,066 ~ 14,466 CAD
compared to leasing a BRAND NEW:
Audi A4 Sedan 45 TFSI quattro Technik S tronic
for 36 months
in Ontario
$0 down payment
25,000 km/year
Savings Breakdown:

| | |
| --- | --- |
| Leasing New (CAD/month) | 1,056 |
| This Contract (CAD/month) | 655 |
| Monthly Difference | 402 CAD/month |
| Remaining Term | x 33 months |
| Total Monthly Difference | = 13,266 CAD |
| + Winter Tires Cost (CAD) | + 800 ~ 1,200 |
| Total Savings (CAD) | = 14,066 ~ 14,466 |
For Buyout Purposes
To own this vehicle today (buying it as a used car) would cost:
47,449 CAD
Total Vehicle Debt: 57,893 CAD
Paid so Far: 10,444 CAD (18% Paid)
Remaining Lease Payments: 21,603 CAD
Residual Value: 25,846 CAD
Cash Incentive: 0 CAD
Vehicle Debt & Value
Paid so far: 10,444 CAD
Total Vehicle Value: 57,893 CAD
Vehicle Debt Breakdown
Downpayment: 625 CAD
Remaining Term: 21,603 CAD
Term Paid so Far: 9,820 CAD
Residual Value: 25,846 CAD
Cost to Own
Already Paid: 10,444 CAD (18%)
Cash Incentive: 0 CAD Buyout Price Today: 47,449 CAD
Interested on financing the vehicle? This section automatically calculates the following scenarios: (Learn more)
Finance the remaining Debt Today
Remaining Term + Residual Value: 47,449 CAD
4.9%

Interest Rate x 48 months
1,091 CAD/month + tax
Total Payable: 52,347 CAD
Total Interest: 4,898 CAD
8.9%

Interest Rate x 48 months
1,179 CAD/month + tax
Total Payable: 56,569 CAD
Total Interest: 9,120 CAD
14.9%

Interest Rate x 48 months
1,318 CAD/month + tax
Total Payable: 63,270 CAD
Total Interest: 15,821 CAD
---
At the end of the Lease Contract
Residual Value: 25,846 CAD (in 33 months)
4.9%

Interest Rate x 48 months
594 CAD/month + tax
Total Payable: 28,514 CAD
Total Interest: 2,668 CAD
8.9%

Interest Rate x 48 months
642 CAD/month + tax
Total Payable: 30,813 CAD
Total Interest: 4,968 CAD
14.9%

Interest Rate x 48 months
718 CAD/month + tax
Total Payable: 34,464 CAD
Total Interest: 8,618 CAD
Business Vehicle Analysis
This section is very important if you are interested in the vehicle for Uber, Lyft, Turo, Getaround, vehicle rental or for a business. (Learn more)
Distance Analysis
Cost to drive 100km: (CAD)
(or 0.27CAD per km)
31.42CAD/100km (Original Contract back in May, 2019)
Time Analysis
Cost per day: (CAD)
21.52
+ tax
+ insurance
+ km driven & fuel
(0.10CAD savings per every 100CAD of incentive)
Remaining Km
Can be driven up to:
552.45
km/week
without any
additional costs
Excess km cost: 0.15CAD
480.77km/week (Contract Original back in May, 2019)
Name: Dom Kwok
Location: Oakville, ON
Date Contract Started:
Date Contract Ends:
---
Extras: Window Tint; Ceramic Coating; Audi Care Service Plan; Audi Universal Front Traffic Camera (Dashcam); Weathertech Front/Rear Mats, Winter Tires on Rims