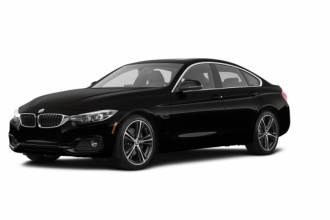 CAD/month x 18 months
2018 BMW Grancoupe 440 (ID: #13334)
639
2018 BMW
Grancoupe 440 Automatic AWD w/ M design
Payment Details
Current Payment: 639 CAD/month + tax
Cash Incentive: 1,000 CAD
Payment After Incentive:

583 CAD/month + tax

Original Downpayment: 750 CAD
Residual Value: 30,800 CAD
Months to End: 18 months (Jan, 2022)
Vehicle Status
Contract Allowance: 20,000 km/year
Current Odometer: 28,800 km total
Available Now: 30,800 km/year (2,567 per month)
Excess Km Cost: 0.15 CAD/km
Deal Special Perks
Perks are determined by LeaseCosts Canada Inc. and not by the person who listed the vehicle.
Click here to MAKE AN OFFER
639.00
CAD/month
in Gatineau, QC
Before Taxes:

639.00 CAD/month
294.92 CAD/bi-weekly
147.46 CAD/week
7,668.00 CAD/year
Incl. Québec Taxes (14.98%):
734.72 CAD/month
339.10 CAD/bi-weekly
169.55 CAD/week
8,816.67 CAD/year
Estimate Insurance Costs
Avoid surprises and lock your insurance offer now! Quote how much you will have to pay and get the best insurance company to bid for your contract.
powered by

Lease Takeover/Buyout Analysis
The Lease Takeover Analysis "Leasing Purposes" section is an impartial review made by a Lease Takeover Specialist from LeaseCosts Canada Inc. and should be used as reference. (Learn more)
For Leasing Purposes
With this deal, you are saving:
16,776 ~ 17,176 CAD
compared to leasing a BRAND NEW:
BMW 440 Gran Coupe
for 12 months
in Québec
$0 down payment
24,000 km/year (note this contract has way more)
Savings Breakdown:

| | |
| --- | --- |
| Leasing New (CAD/month) | 1,471 |
| This Contract (CAD/month) | 639 |
| Monthly Difference | 832 CAD/month |
| Remaining Term | x 18 months |
| Total Monthly Difference | = 14,976 CAD |
| + Cash Incentive** (CAD) | + 1,000 |
| + Winter Tires Cost (CAD) | + 800 ~ 1,200 |
| Total Savings (CAD) | = 16,776 ~ 17,176 |
| | ** "Cash Incentive" is not just a saving, it is physical money. |
For Buyout Purposes
To own this vehicle today (buying it as a used car) would cost:
41,302 CAD
Total Vehicle Debt: 60,305 CAD
Paid so Far: 18,003 CAD (29% Paid)
Remaining Lease Payments: 11,502 CAD
Residual Value: 30,800 CAD
Cash Incentive: 1,000 CAD
Vehicle Debt & Value
Paid so far: 18,003 CAD
Total Vehicle Value: 60,305 CAD
Vehicle Debt Breakdown
Downpayment: 750 CAD
Remaining Term: 11,502 CAD
Term Paid so Far: 17,253 CAD
Residual Value: 30,800 CAD
Cost to Own
Already Paid: 18,003 CAD (29%)
Cash Incentive: 1,000 CAD Buyout Price Today: 41,302 CAD
Interested on financing the vehicle? This section automatically calculates the following scenarios: (Learn more)
Finance the remaining Debt Today
Remaining Term + Residual Value: 41,302 CAD
4.9%

Interest Rate x 48 months
949 CAD/month + tax
Total Payable: 45,566 CAD
Total Interest: 4,264 CAD
8.9%

Interest Rate x 48 months
1,026 CAD/month + tax
Total Payable: 49,240 CAD
Total Interest: 7,938 CAD
14.9%

Interest Rate x 48 months
1,147 CAD/month + tax
Total Payable: 55,074 CAD
Total Interest: 13,772 CAD
---
At the end of the Lease Contract
Residual Value: 30,800 CAD (in 18 months)
4.9%

Interest Rate x 48 months
708 CAD/month + tax
Total Payable: 33,980 CAD
Total Interest: 3,180 CAD
8.9%

Interest Rate x 48 months
765 CAD/month + tax
Total Payable: 36,720 CAD
Total Interest: 5,920 CAD
14.9%

Interest Rate x 48 months
856 CAD/month + tax
Total Payable: 41,070 CAD
Total Interest: 10,270 CAD
Business Vehicle Analysis
This section is very important if you are interested in the vehicle for Uber, Lyft, Turo, Getaround, vehicle rental or for a business. (Learn more)
Distance Analysis
Cost to drive 100km: (CAD)
(inlcuding the 1,000CAD incentive)
24.90CAD/100km (TODAY without the Cash Incentive)
38.34CAD/100km (Original Contract back in Apr, 2018)
Time Analysis
Cost per day: (CAD)
19.18
+ tax
+ insurance
+ km driven & fuel
(inlcuding the 1,000CAD incentive)
21.01CAD/day (Original Contract back in Apr, 2018)
Remaining Km
Can be driven up to:
592.31
km/week
without any
additional costs
Excess km cost: 0.15CAD
384.62km/week (Contract Original back in Apr, 2018)
Name: Eric Dalpe
Location: Gatineau, QC
Date Contract Started:
Date Contract Ends:
---
BMW 440 735$/mois (QC) or 722$/mo (ON) + 750$ Security deposit
BMW 440 2018, Reprenez ma location ou acheter pour 42 000$
Black on Black
735$/months Quebec 722$/months Ontario
for 20 months
Only 28 800 km
75000 km allowed until 17/01/22 residual 30800$
Or buyout is 42 000$ today
M design package. Great condition
X drive