After years of research, writing and study, we have finally come up with a "distributable package of knowledge", or a book :) It was about 400 articles later and the deep study we made of lease contracts over the past 15 years, that I'm happy to announce that LeaseCosts has launched "Car Leasing Done Right: A Canadian guide for understanding & optimizing vehicle leasing costs".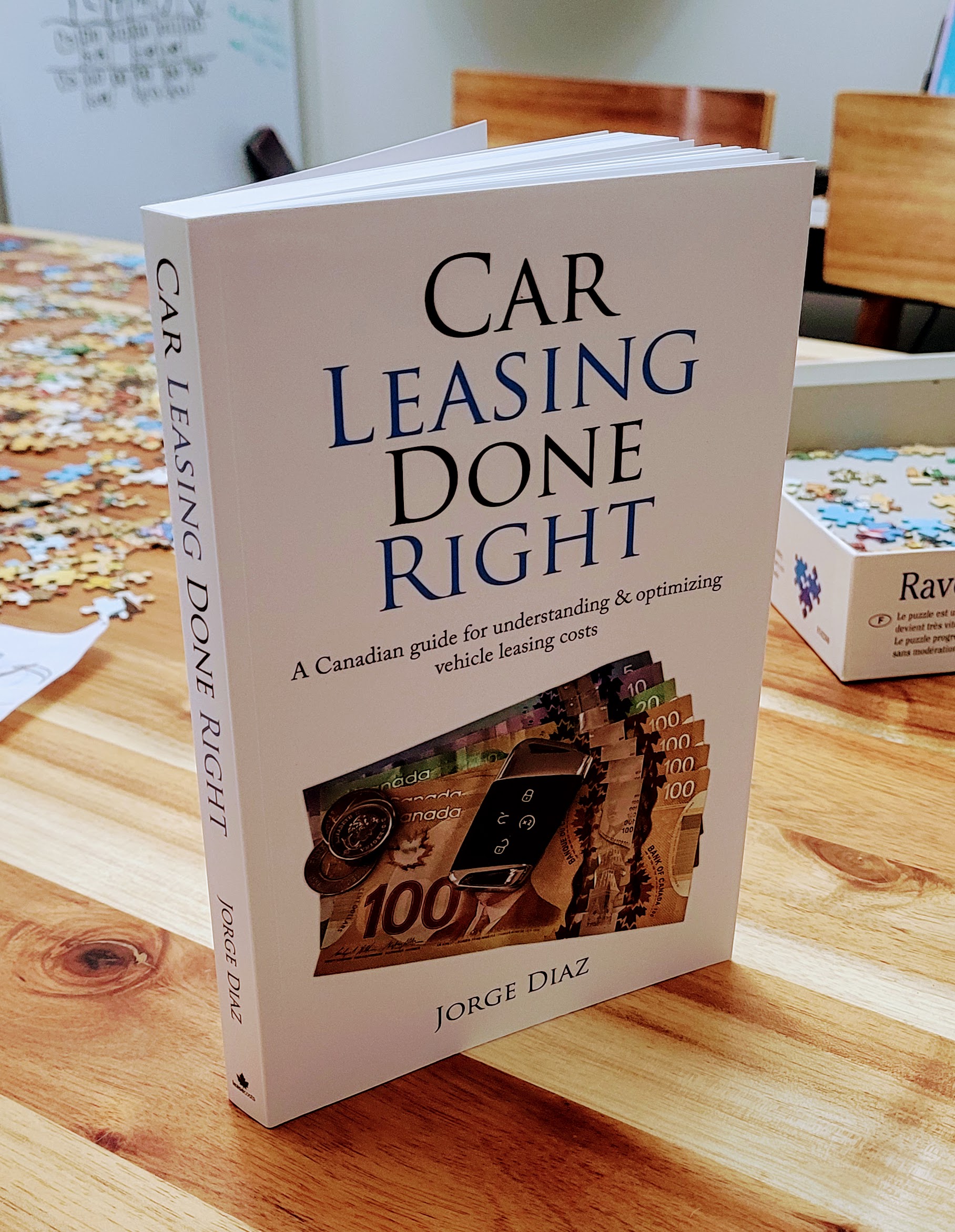 The First edition of "Car Leasing Done Right" includes a comprehensive 2006-2020 study of over 23,000 car leasing contracts.
Why this book?
Yes, why a book like this one? Well, I could try to give it a shot, but I'll leave it to the section of the intro where it is clearly explained:
"(...)I did not grow up in Canada. So as soon as I landed here, I had to learn from scratch how things work. Among medical insurance, taxes, Canadian laws, rental, a job and many other things, I also needed a car. And I struggled with dealerships, my then "brand new"(0) credit score, no Canadian Driving License, no experience at all buying a car here and during the tough month of March, that averages between -2 and -6 degrees celsius when things are easy. And yet again, I needed a car.

The purpose of this book is to help you understand one of the most popular ways to "consume/own" a vehicle in Canada: car leasing. 

"Car leasing done right" is not about what you can do with a leased car, where you can take it or how to use it. It is about the financial side of doing a car lease. It is about the numbers. It is about the costs behind the contract. Those that get withdrawn regularly out of your bank account.

It took me years to gather all this information. To understand how it works. To clarify and "traduce" complicated financial and mathematical aspects of vehicle leasing into a simple guide. A guide that could help anyone to confidently, affordably, and correctly, sign and solve his/her transportation needs with a car lease contract.

This is the book I wish I had read before buying my first car in Canada. The difference it would have done on my finances would be in the mid four figures.

Still, here is all available to you now. 

How to read this book 

This book is divided into 3 main parts: Vehicle leasing basics, lease transfer/takeover and car leasing statistics in Canada.

In the "Vehicle leasing basics" part, if you are new to car leasing (or financing) or just want to get rid of all those doubts you may have regarding a vehicle purchase, this part is a must. You will learn to understand all the way down from the pricing, km, term, agreement and all other factors that define a lease contract. You will understand these all in a way that getting your next car won't be a big deal. Simply, the regular transaction it was always supposed to be.

Additionally, you will learn about the coverage products that come along with your car. Those designed to cover the "unexpected" and get the peace of mind that driving a car is meant to be. Scratches, dents and damage will always occur, because your vehicle is moving around. It was designed for and expected to receive damage, wear and depreciate. Just prepare for it!

Next, on the "Lease transfer/takeover" part, you will learn the perks of one of the most important components of a lease contract: the opportunity to terminate your contract by giving it away to someone else. You will learn about the process, the benefits and the costs of doing so. Although we can all estimate how long we will need a car, life will always throw surprises to you and your loved ones: a newborn, a new work vehicle, new routes to work, downsizing or any other major life event.

And the final part "car leasing statistics in Canada" will give you a lot of insights of how we Canadians consume our vehicles. You will get insights of a deep 15 year study that involves over 23,000 vehicle leasing contracts all around the country and will help you understand things like: 

How much do Canadians pay per month on average on a car lease?

How is this average for each specific car make?

What are the most popular leasing terms by manufacturer?

What is the average down payment? How much is it for Volkswagen, Audi, KIA...? How many people make a down payment?

How many people do actually take the coverage and how it can impact my future unexpected events?

What kind of average payment should I expect for high-end vehicles compared to mass market ones?

How much should I offer as an incentive if I need to transfer my lease?

After finishing all three parts, you will have a solid idea of how car leasing works in Canada and I guarantee you will feel prepared and confident to understand what you are signing for. (...)"
Available NOW as an e-Book
The book will be officially launched in November 2021, but the e-book version is already available exclusively for LeaseCosts users. Additionally, all marketplace customers will get a free digital copy starting on September 1st, 2021, included with their service purchases.