Car dashboards are going through a revival. No more "old looking" physical music players. While they are being replaced with gorgeous digital displays and internet connectivity, both Apple and Google saw an opportunity in this innovation. They wanted to own this new digital space through smartphone integration. Google's solution is known as Android Auto, and Apple's one is called Apple CarPlay.
Android Auto and Apple CarPlay Main Features
Android Auto
Android Auto was launched in March 2015. It requires that your phone has Android 5.0 (Lollipop) or higher and it can connect to compatible vehicle dashboards using a USB connector. Its main features are Google Maps, music, communication, voice, and Android apps for vehicles such as Spotify, to mention the most downloaded one. While the primary focus is driver safety, it is worth to mention "Google Now," the voice actions interface designed to make the experience simple and intuitive.
As I mentioned before, Android Auto's map feature is backed by Google Maps. It provides voice navigation, live-traffic information, and lane guidance. Also, integrated steering wheel controls make all communications hands-free. Apps like Pandora, TextMe, Kik, Skype, and Spotify are also supported on the car dashboard.
Apple CarPlay
Apple CarPlay debuted in March 2014. CarPlay is available on iPhone 5 and higher. Like Android Auto, it also connects to the car's USB port. CarPlay also provides access to maps, phone calls, messages, music, and apps.
On CarPlay, Apple Maps is behind the map and navigation feature. Apple's Siri support the voice controls for phoning and messaging while iTunes takes care of the music functions. Also, other apps like PodCasts, Audiobooks, Spotify, Stitcher, and Overcast are available for CarPlay use.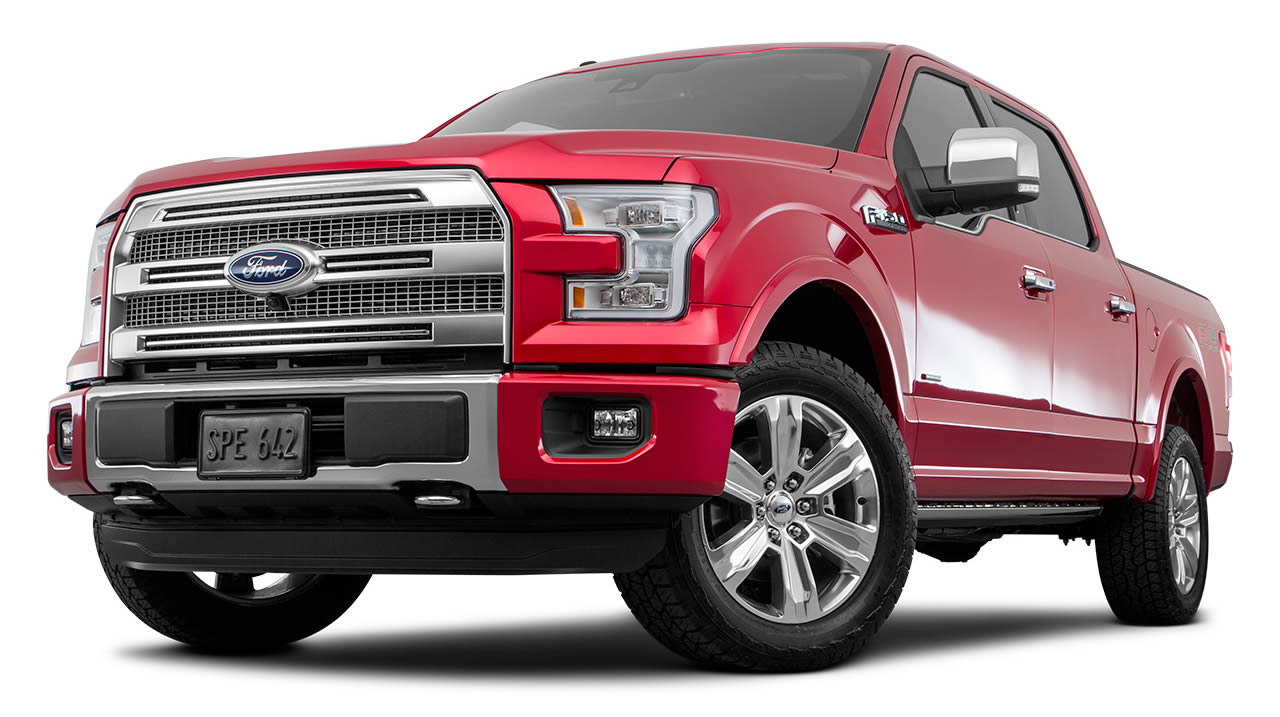 Ford F-150, the top selling vehicle in Canada with more than 100K+ units sold per year, supports both Android Auto & Apple CarPlay.
Main Differences
Both Android Auto and Apple CarPlay are designed to provide a seamless experience for the driver. However, they are distinct from each other in many ways.
Installation and Design
Android Auto installation is easy: You download the app and then connect your device to your car's USB port. Once the app connects, your phone goes into "Android Auto" mode. It means your phone screen is locked. Also, Android Auto car dashboard display doesn't use the Androids look and feel. It uses a card-based notification system.
On CarPlay, the dashboard display has the same look and feel of iPhone interface, making it feel more familiar to Apple users. Users can simultaneously use CarPlay and Apple iPhone interface, so there is no "interface-lock" like Android Auto.
Voice Commands
Android Auto's voice support is quite robust. It is great at recognizing commands and performing tasks like messaging or phone call placement. Drivers have to use the steering wheel button or the on screen button to activate Android Auto voice control.
On the other hand, CarPlay voice experience is provided by "Siri". So, besides the steering wheel button and on-screen button, Siri can be activated by just saying, "Hi, Siri." However, Siri is not as efficient as Android Auto's voice command system in recognizing speech. Android Auto seems to have an edge in this area even though Siri is the more famous technology.
On-Screen Control
As mentioned before, a fundamental difference between Android Auto and Apple CarPlay is that the screen locks on the first one. During driving, this might not be a problem because the primary purpose of these technologies is to improve the hands-free experience. But if you are waiting in a parking lot, and you want to use your phone simultaneously, then you are out of luck with Android Auto. Your options are to either use the on-screen controls to access your apps or unplug your phone from the dashboard.
On the CarPlay side, if you try to use your iPhone while connected, CarPlay will automatically activate Siri to maintain your "car interface" open while using the phone screen.
Phone and Text Functionalities
Both Android Auto and Apple CarPlay support phone and text features through voice commands. Android Auto supports text messaging apps like Text+ and Skype while CarPlay only has support for Apple's native messaging app.
Navigation
Here Android Auto is a comprehensive winner. No one is better today providing a Navigation experience like Google is. As CarPlay only allows Apple Maps for navigation and you can use Siri to navigate, still it isn't enough to compete with Google Maps.
But Android Auto gives better service in the navigation area through Google Maps. It comes with all the bells and whistles that Google Maps we use on our phones and desktops. Finding any location, places, reviews, and suggestions is easy. There are plenty of information and recommendations available, making the Android Auto experience a real smooth solution.
Music and Audio
Apple CarPlay offers support for native Apple Music, PodCast, and Audiobooks. With this vibrant ecosystem, you might not have any need for extra music or audio apps. But it provides additional support for Spotify, Slacker Radio, and others. Android Auto's primary focus is Google Play Music, not as popular as iTunes, but it also supports apps like Spotify and Pandora. CarPlay definitely wins in this area because of Apple's better ecosystem.
Supported Vehicles in Canada
Both Google and Apple are actively creating partnerships with car OEMs to build their brands. Here are the current lists of supported vehicles for Android Auto and Apple CarPlay. Following, the list of the most popular vehicles in Canada that support each system:
Android Auto
Acura: Acura NSX 2017
Audi: Audi A3 2017, Audi A4 2017, Audi A5 2017, Audi A6 2017, Audi A7 2017, Audi Q2 2017, Audi Q5 2018, Audi Q7 2016, Audi R8 2017, Audi TT 2017
Buick: Encore 2017, Envision 2017, LaCrosse 2016, Regal 2016
Chevrolet: Aveo 2017, Bolt EV 2017, Camaro 2016, Camaro Convertible 2016, Colorado 2016, Colorado/S10 2017, Corvette 2016, Corvette Convertible 2016, Cruze 2016, Cruze Hatchback 2017, Equinox 2018, Impala 2016, Malibu 2016, Onix 2017, Prisma 2017, Silverado 2016, Silverado HD 2016, Sonic 2017, Spark 2016, Suburban 2016, Tahoe 2016, Trailblazer 2017, Traverse 2018, Trax 2017, Volt 2016
Chrysler: 300 2017
Dodge: Challenger 2017, Charger 2017
Ford: C-MAX 2017, Edge 2017, Escape 2017, Everest 2017, Expedition 2017, Explorer 2017, F-150 2017, Flex 2017, Focus 2017, Fusion 2017, Galaxy 2017, Kuga 2017, Mondeo 2017, Mustang 2017, Ranger 2017, S-MAX 2017, Super Duty 2017, Taurus 2017, Tourneo Connect 2017, Transit 2017, Transit Connect 2017, Vignale 2017
GMC: Acadia 2017, Canyon 2016, Sierra 2016, Yukon 2016, Yukon Denali 2016, Yukon XL 2016
Honda: Accord 2016, Civic 2016, Clarity Fuel Cell 2017, CR-V 2017, Freed 2017, Pilot 2017, Ridgeline 2017
Hyundai: Azera 2015, Elantra 2017, Elantra GT 2016, Genesis 2015, Ioniq Electric 2018, Ioniq Hybrid 2018, Santa Fe 2017, Santa Fe (Sport) 2017, Sonata Hybrid 2016, Sonata PHEV 2016, Tucson 2016
Jeep: Compass 2017
Kia: Cadenza 2017, Carens 2017, Cee'd 2017, Forte 2017, Forte Koup * 2017, Forte5 2017, K900 * 2019, Niro 2017, Optima 2015, Optima Hybrid 2015, Optima Plug-in Hybrid 2017, Picanto 2018, Rio 2018, Sedona 2015, Sorento 2016, Soul 2014, Soul EV 2015, Sportage 2017, Stinger * 2018
Lincoln: Continental 2017, MKC 2017, MKX 2017, MKZ 2017, MKZ Hybrid 2017, Navigator 2017
Mercedes-Benz: A-Class 2017, B-Class 2017, CLA Coupe 2017, CLA Shooting Brake 2017, CLS Coupe 2017, CLS Shooting Brake 2017, E-Class Cabriolet 2017, E-Class Coupe 2017, E-Class Sedan 2017, E-Class Wagon 2017, GLA 2017, GLE 2017, GLE Coupe 2017, GLS 2017, Mercedes-Maybach 2018, S-Class Sedan 2018, SL 2017, SLC 2017
Mitsubishi: ASX 2017, Delica D:2 2017, Delica D:2 Custom 2017, Eclipse Cross * 2018, i-MiEV * 2017, Mirage 2017, Mirage G4 2017, Outlander 2017, Outlander PHEV 2017, Pajero 2016, Pajero Sport 2016
Nissan: MM516D-L, MM516D-W
Subaru: BRZ * 2018, Impreza 2017, Legacy Outback * 2018
Volkswagen Passenger Cars: Arteon 2017, Atlas 2017, Beetle 2016, Beetle Cabriolet 2016, CC 2016, CrossFox 2017, Fox 2017, Gol 2017, Golf 2016, Golf Cabriolet 2016, Golf Sportsvan 2016, Golf Variant 2016, Jetta 2016, NMS-Passat 2016, Passat 2016, Passat Variant 2016, Polo 2016, Saveiro 2017, Scirocco 2016, Sharan 2016, Tiguan 2016, Touran 2016, Voyage 2017
Volvo: S90, V90, V90 Cross Country, XC90
Apple CarPlay
Acura: 2017 NSX, Audi, 2017 A3, 2017 A4, 2017 A5, 2017 A6, 2017 A7, 2017 Q2, 2017 Q7, 2017 R8, 2017 TT, 2018 Q5
BMW: 2017 2 Series, 2017 3 Series, 2017 4 Series, 2017 5 Series, 2017 6 Series, 2017 7 Series, 2017 X3, 2017 X4, 2017 X5, 2017 X6
Buick: 2016 - 2017 LaCrosse, 2016 - 2017 Regal, 2017 Encore, 2017 Envision
Chevrolet: 2016 - 2017 Camaro, 2016 - 2017 Camaro Convertible, 2016 - 2017 Colorado, 2016 - 2017 Corvette, 2016 - 2017 Corvette Convertible, 2016 - 2017 Cruze, 2016 - 2017 Impala, 2016 - 2017 Malibu, 2016 - 2017 Silverado, 2016 - 2017 Silverado HD, 2016 - 2017 Spark, 2016 - 2017 Suburban, 2016 - 2017 Tahoe, 2016 - 2017 Volt, 2017 Aveo, 2017 Bolt EV, 2017 Prisma, 2017 S10, 2017 Sonic, 2017 Trax
Chrysler: 2017 300
Dodge: 2017 Challenger, 2017 Charger
Fiat: 2018 Fiat 500, 2018 Fiat Tipo, Ford, 2017 C-MAX, 2017 Edge, 2017 Escape, 2017 Expedition, 2017 Explorer, 2017 F-150, 2017 Fiesta, 2017 Flex, 2017 Focus, 2017 Fusion, 2017 Taurus, 2017 Transit, 2017 Transit Connect, 2017 Mustang, 2017 Super Duty
GMC: 2016 - 2017 Canyon, 2016 - 2017 Sierra, 2016 - 2017 Yukon, 2016 - 2017 Yukon XL, 2017 Acadia
Honda: 2016 - 2017 Accord, 2016 - 2017 Civic, 2017 CR-V, 2017 Ridgeline, 2017 Pilot
Hyundai: 2015 - 2016 Genesis Sedan, 2015 - 2017 Azera, 2015 - 2017 Sonata, 2016 - 2017 Elantra GT, 2016 - 2017 Tucson, 2016 - 2017 Veloster, 2017 IONIQ, 2017 Santa Fe, 2017 Santa Fe Sport, 2017 - 2018 Elantra
Jeep: 2018 Compass
Kia: 2014 - 2017 Soul, 2015 - 2017 Optima, 2015 - 2017 Optima Hybrid, 2015 - 2017 Sedona, 2015 - 2017 Soul EV, 2017 Cadenza, 2017 Forte, 2017 Forte Koup, 2017 Forte5, 2017 Niro, 2017 Optima Plug-In Hybrid, 2017 Sorento, 2017 Sportage
Mercedes: 2016 - 2017 A-Class, 2016 - 2017 B-Class, 2016 - 2017 CLA-Class, 2016 - 2017 CLS-Class, 2016 - 2017 E-Class Cabriolet, 2016 - 2017 E-Class Coupe, 2016 - 2017 GLA-Class, 2016 - 2017 GLE-Class, 2017 E-Class, 2017 SL-Class
Mitsubishi: 2016 - 2017 Pajero, 2016 - 2017 Pajero Sport, 2016 - 2017 Mirage, 2016 - 2017 Mirage G4, 2017 Outlander, 2017 Outlander PHEV, 2018 Eclipse Cross
Nissan: 2017 Maxima, 2017 Micra
Subaru: 2017 Impreza, 2018 Outback
Volkswagen: 2016 Spacefox, 2016 - 2017 Beetle, 2016 - 2017 Beetle Cabriolet, 2016 - 2017 CC, 2016 - 2017 e-Golf, 2016 - 2017 Fox, 2016 - 2017 Golf, 2016 - 2017 Golf Cabriolet, 2016 - 2017 Golf SportsVan, 2016 - 2017 Golf Variant, 2016 - 2017 Golf R, 2016 - 2017 Golf SportWagen, 2016 - 2017 GTI, 2016 - 2017 Jetta, 2016 - 2017 Lamando, 2016 - 2017 Passat, 2016 - 2017 Passat Variant, 2016 - 2017 Polo, 2016 - 2017 Scirocco, 2016 - 2017 Sharan, 2016 - 2017 Tiguan, 2016 - 2017 Touran, 2017 Atlas, 2017 CrossFox, 2017 Gol, 2017 Saveiro, 2017 Voyage
Volvo: 2016 - 2017 XC90, 2017 S90, 2017 V90, 2018 XC60