During our constant market research, we enjoy exploring customer preferences, when it comes to suggestions on where to go. While Audi is one of the most popular luxury brands Canada, high-end vehicle customers demand a better and customized experience while acquiring a new car. On the following article, I will cover the top Audi Dealerships in Canada, based on customer reviews & feedback.
Audi Dealerships in Canada
As of 2017, Audi has a total of 49 dealers in Canada and 290 in the U.S. As usual, a higher concentration of dealerships can be found all across the south of the country, where major urban populations are found: around Montreal, Toronto & Vancouver.
The following list features, sorted by Google Rating reviews, one of the most popular (while also arbitrary) public sources of feedback related to service providers, retailers and any other place in general.
For a complete summary of Audi history, refer to the manufacturer profile page on LeaseCosts.
Top Montreal Audi Dealerships
Top Toronto Audi Dealerships
Top Vancouver Audi Dealerships
More Canadian big cities
Our site focuses on all Canada, and we start by the biggest population centers. Cities like Ottawa, Calgary, Edmonton, Quebec City, Winnipeg, Thunder Bay, Hamilton and more, have specific dealer pages at LeaseCosts.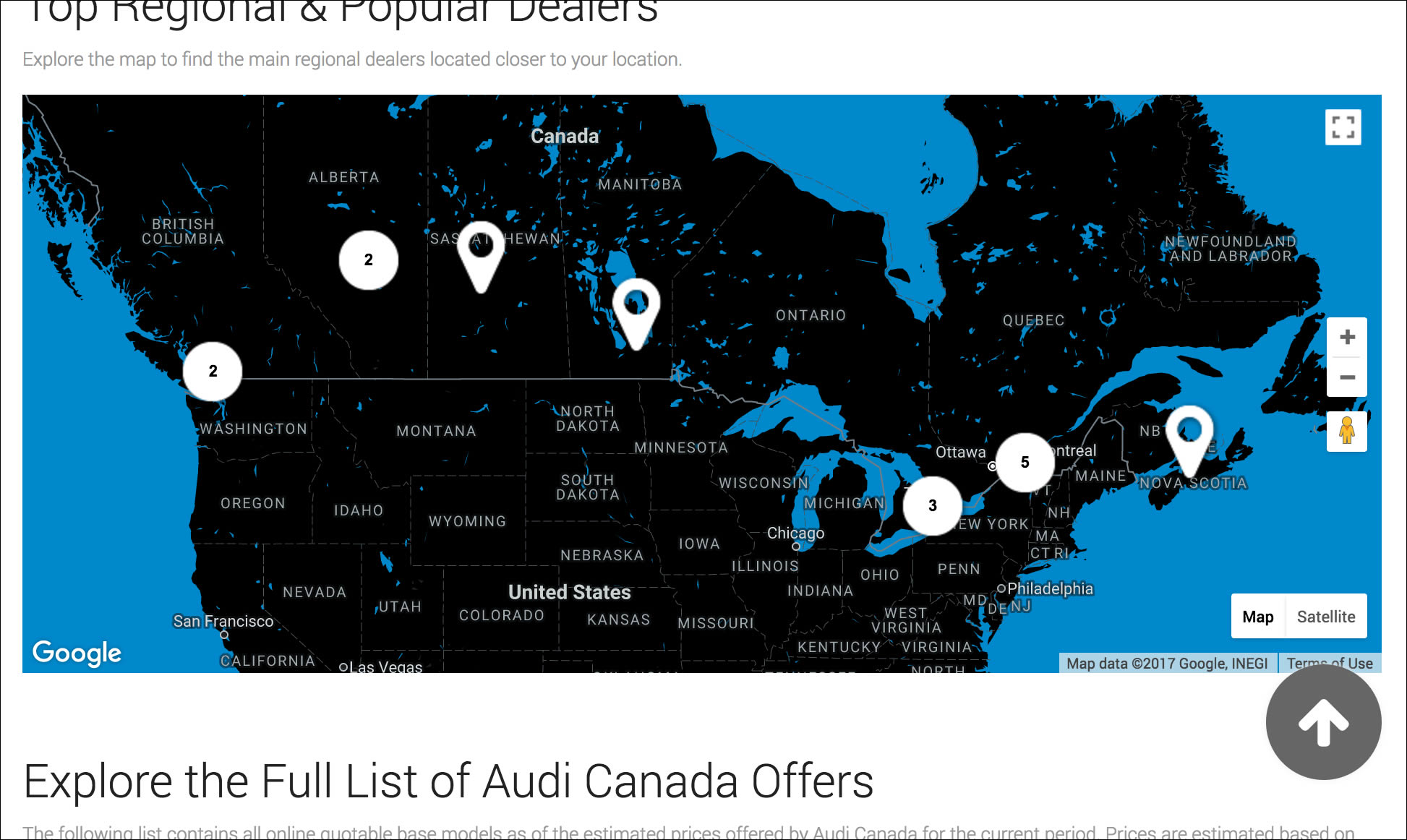 For a full list of distributed Audi Dealerships in Canada, feel free to explore the Dealer Explorer map included on the Audi page.
Anywhere is generally ok, but you have the right to choose
Audi certification and approval of dealers is very strict and exhaustive, so anywhere you go, it will be a great experience. Still, it is 2017 and we all want to know more, have second opinions and have the chance to choose among all available options.
If you are considering acquiring a new Audi, the following links will help you better understand your options, what people preferred and what are the options the market has prepared for you.
Explore +1,000 New Car Deals in Canada
The Full List of Top Audi Dealerships in Canada
Audi Dealer in Montreal
2400 Boulevard Chomedey, Laval, QC H7T 2W3
Audi Dealer in Montreal
5442 St Hubert St, Montreal, QC H2J 2Y6
Audi Dealer in Montreal
5905 Trans Canada Route, Saint-Laurent, QC H4T 1A1
Audi Dealer in Toronto
328 Bayview Ave, Toronto, ON M5A 3R7
(416) 961-2834
Audi Dealer in Toronto
1310 The Queensway, Etobicoke, ON M8Z 1S4
Audi Dealer in Toronto
175 Yorkland Blvd, North York, ON M2J 4R2
Audi Dealer in Vancouver
813 Automall Dr, North Vancouver, BC V7P 3R8
Audi Dealer in Vancouver
1788 W 2nd Ave, Vancouver, BC V6J 1H6
(604) 733-5887
Audi Dealer in Vancouver
3701 Lougheed Hwy, Burnaby, BC V5C 0J4
(604) 909-2463
Audi Dealer in Edmonton
18855 Stony Plain Rd NW, Edmonton, AB T5S 2X6
Audi Dealer in Calgary
25 Richard Way SW, Calgary, AB T3E 7M8
Audi Dealer in Winnipeg
670 Century St, Winnipeg, MB R3H 0A1
Audi Dealer in Halifax
6077 Columbus St, Halifax, NS B3K 0E9
Audi Dealer in Ottawa
458 Montreal Rd a, Ottawa, ON K1K 0V3
Audi Dealer in Quebec City
2834 Rue Einstein, Ville de Québec, QC G1X 4B3
Audi Dealer in Saskatoon
703 Melville St, Saskatoon, SK S7J 5L2