If you were waiting for the used car price bubble to pop to go after that car you need, this is probably the right time. Obviously, now we are facing other factors such as high inflation, rising interest rates and a "somewhat" improved inventory, so calling it a "right time" may be a little rush.
Manheim Used Car Index
According to Manheim, over the past 12 months, we have seen a decline in mass used vehicle prices. From a crazy rise that reached over 40% of used vehicle price increase in 2021, we are seeing an incredible correction catching up with the reality: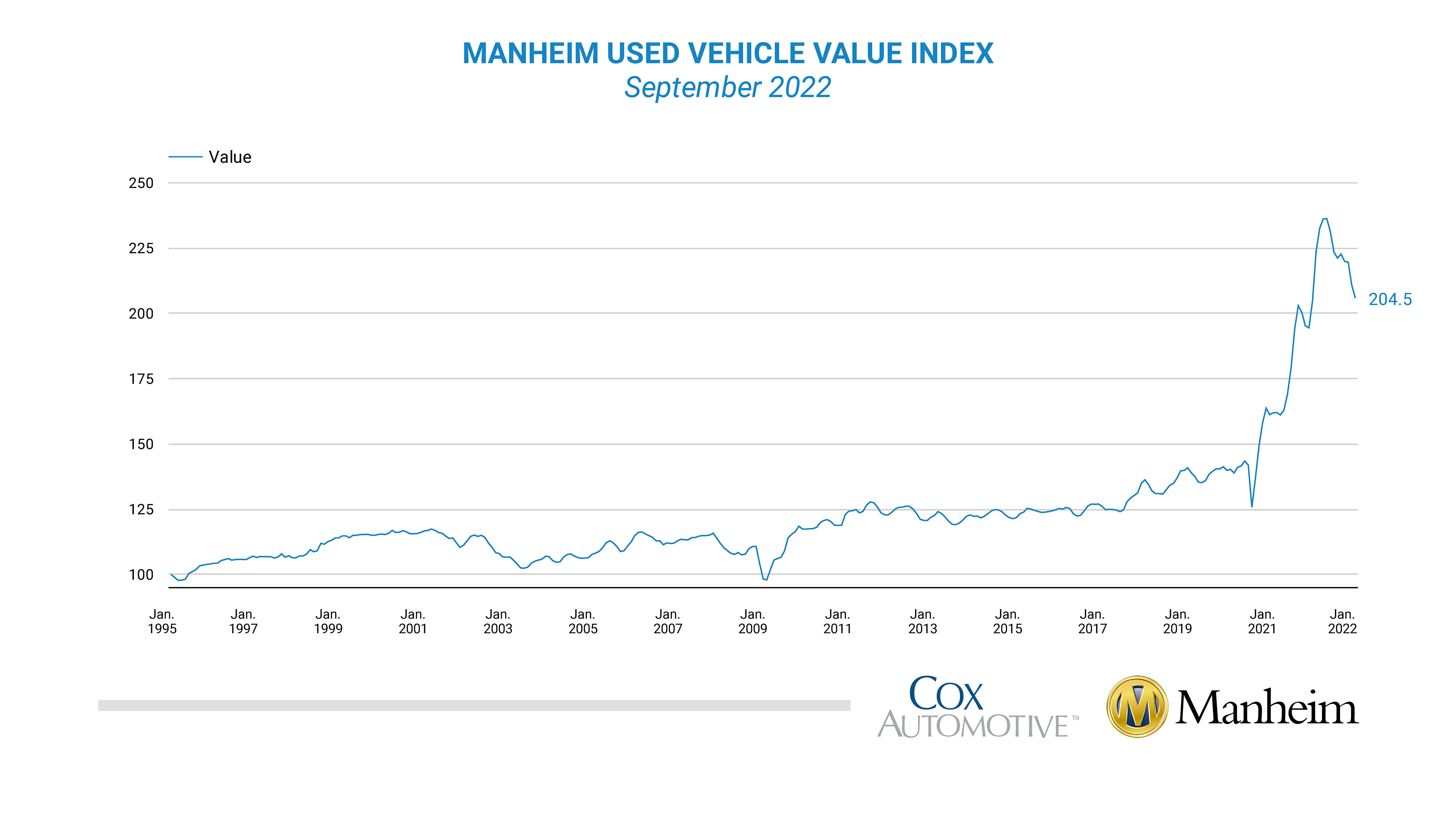 Manheim Used Vehicle Value Index September 2022. Source: Manheim Used Vehicle Value Index.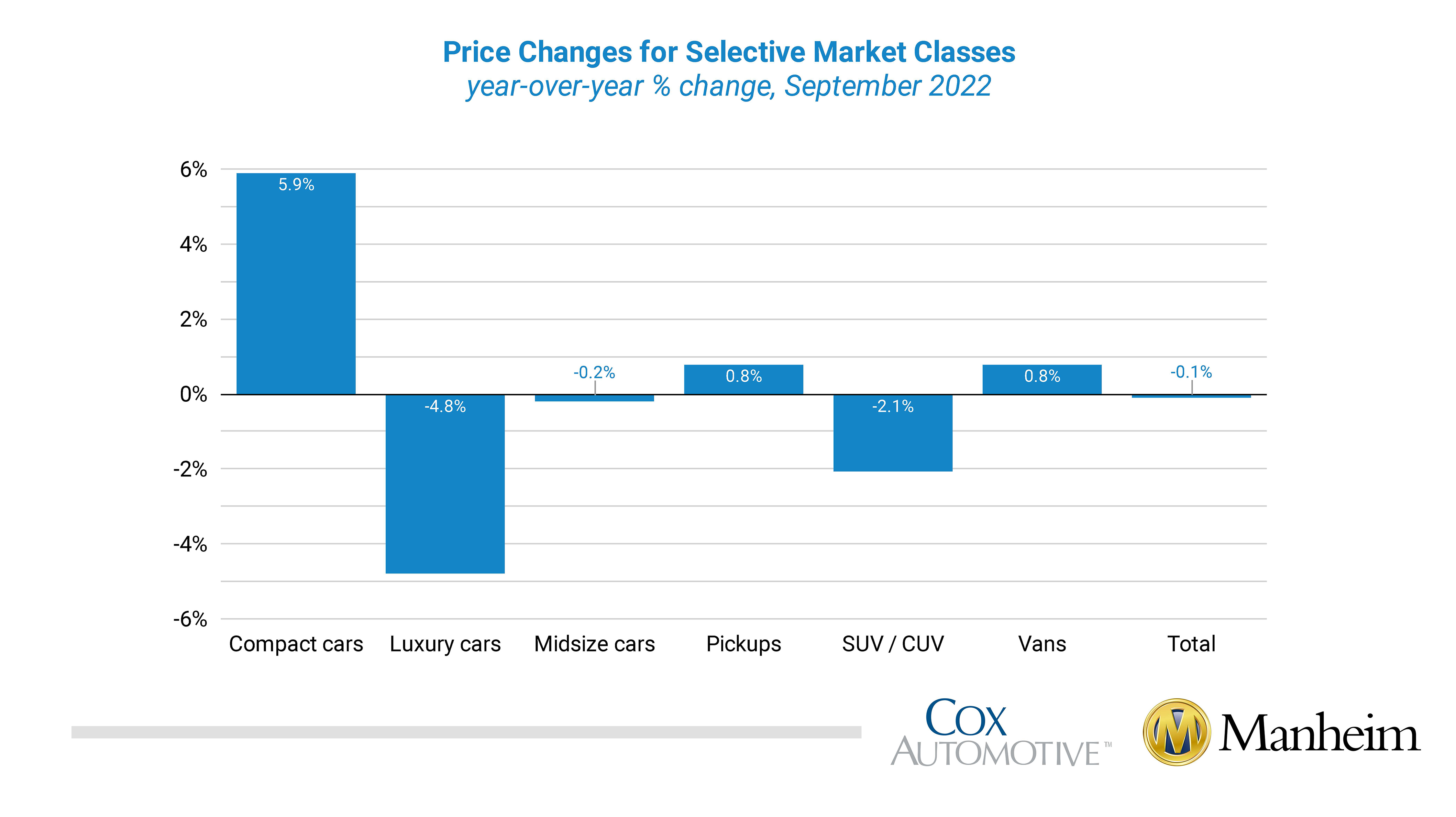 Price Changes for Selective Market Classes: Manheim Used Vehicle Value Index.
Some Dealerships Selling at a Loss
There is a great Twitter account that I love to follow: Car Dealership Guy, managed by a dealership owner in the U.S. that constantly shares amazing insights about the industry and the automotive business overall. Here, some of his most recent tweets:
Incase you needed more proof:

Honda dealer slid into my DMs.

'F/E Gross' is profit from sale of vehicles 🤮 pic.twitter.com/BEltqNUUCF

— CarDealershipGuy (@GuyDealership) October 1, 2022
This is kind of a big deal:

"it will take 3 to 6 mths for the auto industry to end up in oversupply, which will put an abrupt end to a 3-year phase of unprecedented" pricing power and profit margins for OEMs.

- Patrick Hummel, an Autos analyst at UBS, to investors this morning

— CarDealershipGuy (@GuyDealership) October 10, 2022
Tons of 'No-Sales' at yesterdays Manheim auction pic.twitter.com/FpTUO7lwb5

— CarDealershipGuy (@GuyDealership) September 15, 2022
JUST IN:

Wholesale used car prices declined 4% in August.

The BIGGEST 1-month decline ever recorded.

— CarDealershipGuy (@GuyDealership) September 8, 2022
People sending me these anecdotes every day now.

Mind you, this is about a Toyota.

Car market is wild right now. pic.twitter.com/RTjTr2yBiM

— CarDealershipGuy (@GuyDealership) October 6, 2022
Inventories on the Rise
Over 2021 and the first half of 2022, whenever you drove by a dealership, you could see the packed parking lots but with a small detail: most vehicles were not from the same make as the dealerships. You could be on a Toyota dealership and see the parking lot full of Chevy's, Hyundai's, Honda and any other possible brand around. As new vehicle inventory and waiting lines were so lagged, dealerships were incredibly grabbing deals out of the hands of customers.
Also, during 2021, many dealership websites either disabled their "New vehicle inventory" pages to replace these with "Vehicle Model" lead capturing forms. The whole concept was that you submitted your info, and you would eventually end up in a waiting list. 
All this has been flipping over since the beginning of the summer.
Now many of the dealerships here around in Montreal have same brand vehicles with white stickers. I've personally seen this also in the Toronto, Ottawa and even Miami, FL area during this summer. Vaudreuil VW, just to mention one of the Montreal area dealerships, currently has 44 brand-new VW SUV available on the parking lot and online inventory. 10 months ago it had just 6 and all were Atlas Crossport. Still, Jettas and Golf models either go out pretty fast or still have wait lines. Not showing up on the inventory or at least not visible on the lots from the highway.
Where are we expected to go from here on?
My guess is that we are getting back to normal. Already left behind, the balance point between inventory availability and used car demand.
Brace for impact. We are getting back to Feb 2020 market conditions, but with inflation and high interest rates onboard.