Closer in distance to Montreal than Toronto itself, New York City is a popular destination. On this article, I will share with you multiple tips that may help you if you ever decide to do the road trip to The Big Apple. I've done it more than 5 times, and this is why I want to share it with you all today. Here, the tips for the Montreal to New York Road Trip.
I 87 South is 80% of the Path
Most of the time you will be on top of the comfortable I87. It is a 4 lane highway (2 for each direction) with multiple rest areas, service stations, beautiful northern landscapes and highly signalized, maintained and with very good conditions. Basically, if you have a Cruise Control system (and know how to safely use it), you can steadily roll it at 65 mph (~105 km/h) most of the time.
The entire trip is about 600km, so you will make almost 450 on top of this road.
Fuel Up In the U.S. when Possible
As I said before, I'm assuming you are either leaving from Montreal or any other surrounding area. Basically, all the way south on the 15 South (in Canada) and later on, all the way down on the Interstate 87 South (U.S.). You can see a sample Google Map here that goes all the way down from Montreal Downtown to Jersey City. Please note I do not add any specific point of New York due to the high traffic congestions on the city and how easy these can blow out these estimates.
On average, let's assume you are driving a 29 MPG or 8.11 l /100km (the average highway consumption). If we calculate it in GasBuddy Trip Fuel calculator:
It should be around 15 gallons (about 60 liters of gas) each way: It is a good idea to fuel up on the other side of the border. Basically, you will be saving between 30-35% when doing so in the states.
If it is a busy season, expect a fuel reserve for the idle time at the customs: Sometimes lines are 1h long or even more. If it is the first day of a long weekend, don't be surprised to see all lanes open and still, hundreds of vehicles in line.
Fuel up before the Ausable Chasm - Pottersville section (read next section) if your fuel level is low.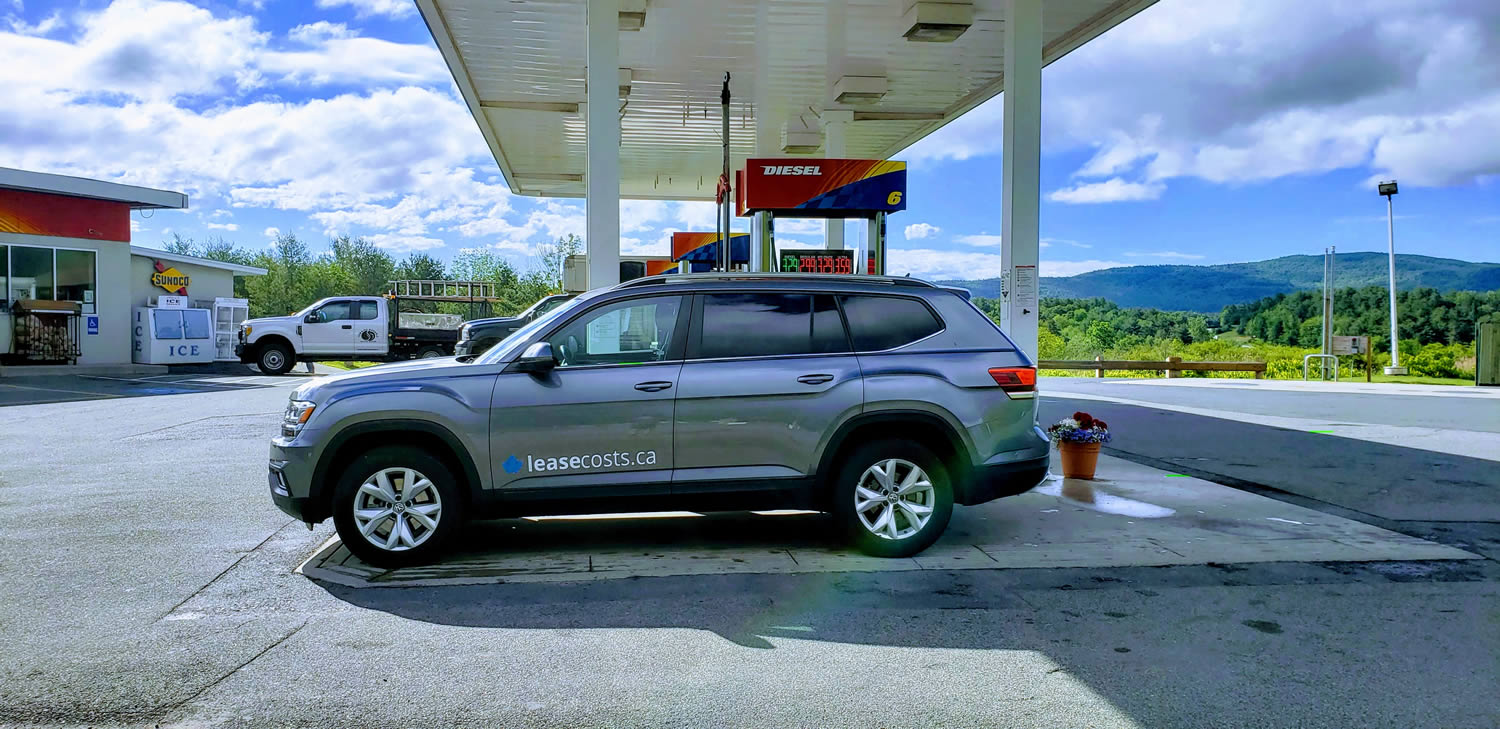 As soon as you enter into the U.S., there are multiple gas stations in less than 1km from the Border Controls.
I87 Ausable Chasm - Pottersville (~60 miles) Low Cell Network Coverage
There is a specific part of the road, between Ausable Chasm and Pottersville that has a beautiful mountain landscape, but also the population density is very low, and so is the cellular network coverage. This means that stationary emergency phone lines are available every 2 miles along the road.
I don't want to sound scary at all; it is a pretty safe road that I've taken even at 3 am. Just be aware of wildlife animals crossing and remember that, if somehow you have a mechanical problem, phone lines are available.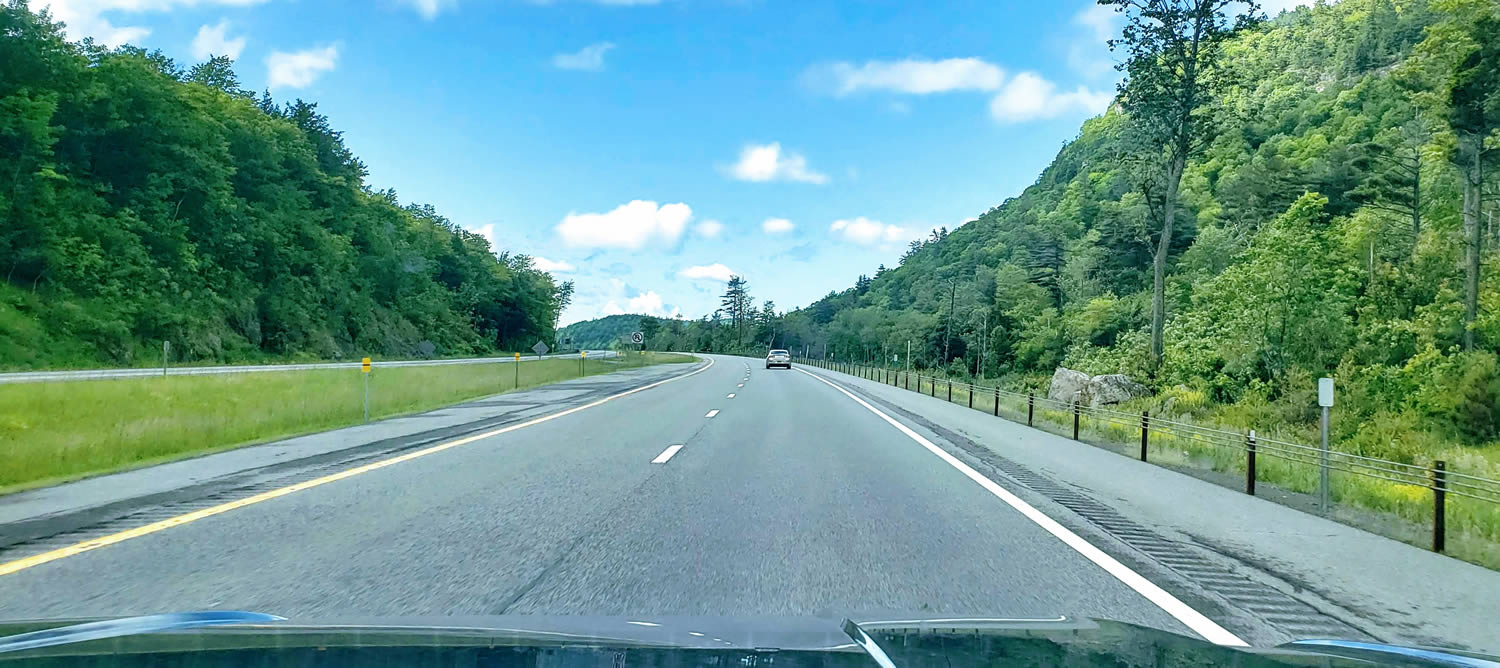 Tolls and the E-ZPass
Well, this is controversial. While many people suggest to just pass by and wait for the bills to arrive through the post, some other say to order a transponder. It should take six weeks to ship it to Canada.
Either way, I've driven through the camera lanes multiple times and multiple times have received and paid the bills here in Canada. If somehow you expect to use the toll highways numerous times, then I strongly suggest you evaluate the chances of ordering one.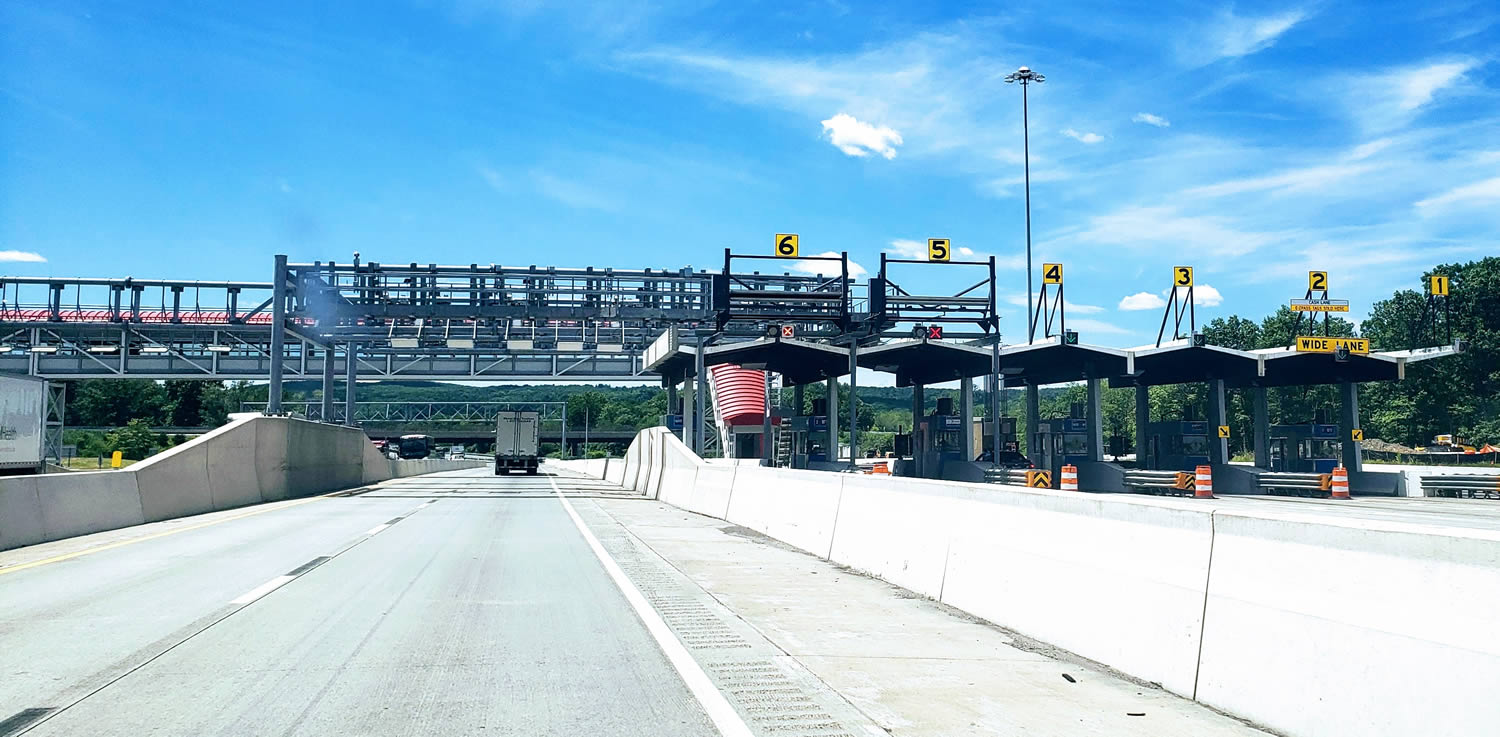 You can also pay in cash. Either way, ensure to respect the transit regulations of The Estate of N.Y.
Aim For Outside of Manhattan, When Possible
Unless you are willing to pay up to 60 USD per 24h parking in Manhattan (plus all the tolls to enter), it is always a good idea to either go for a hotel with parking or to someplace outside of the island. Manhattan has multiple entrances (highways from the north, bridges, tunnels) but basically, entering the island is slow and painful, if you are used to Canadian traffic. On the other hand, public transportation systems are fantastic, either from Brooklyn/Queens or from the South (Jersey City). My suggestion, aim for any of these, but not Manhattan directly.
To be continued...