Tesla has captured the imagination and passion of car enthusiasts all over the globe. Until now, their cars were not affordable for most people. Car lovers and fans went to vehicle shows and Tesla showrooms to get a glimpse of their beloved models, but visiting a "show" became a ritual for the fans. While cars like Model S and Model X became the celebrities of the automotive industry, the new Model 3 is changing that narrative.
Model 3 aspires to be the electric vehicle for everybody. And now that more people can afford a Tesla, the company is planning to mass produce it. The first batch is already in production, and the first 30 hit the road a week ago. When the demand for the new toy has skyrocketed, the backlog for pre-orders is piling up with almost half a million and wait times are extending beyond mid-2018.
Tesla's Journey to Model 3: A Brief History
Even though Elon Musk is the face of Tesla today, the company was initially founded by Martin Eberhard and Marc Tarpenning in July 2003. Later, during 2004, Musk jumped on the board.
Tesla unveiled its first vehicle "the Roadster" in 2006. It wasn't a smooth ride for this early venture: from 2008 to 2012, Tesla sold only 2,250 Roadsters. Musk became the CEO of Tesla in October 2008.
Tesla's luck changed with the introduction of Model S. It was unveiled in June 2008, and it became an instant success. But starting at $50,000, it wasn't the most affordable car in the market, not even close. Years later and inspired by the success of Model S, Tesla unveiled Model X, the first Tesla SUV, and AWD vehicle. Also, the company started to invest heavily in building electric car charging stations through out California.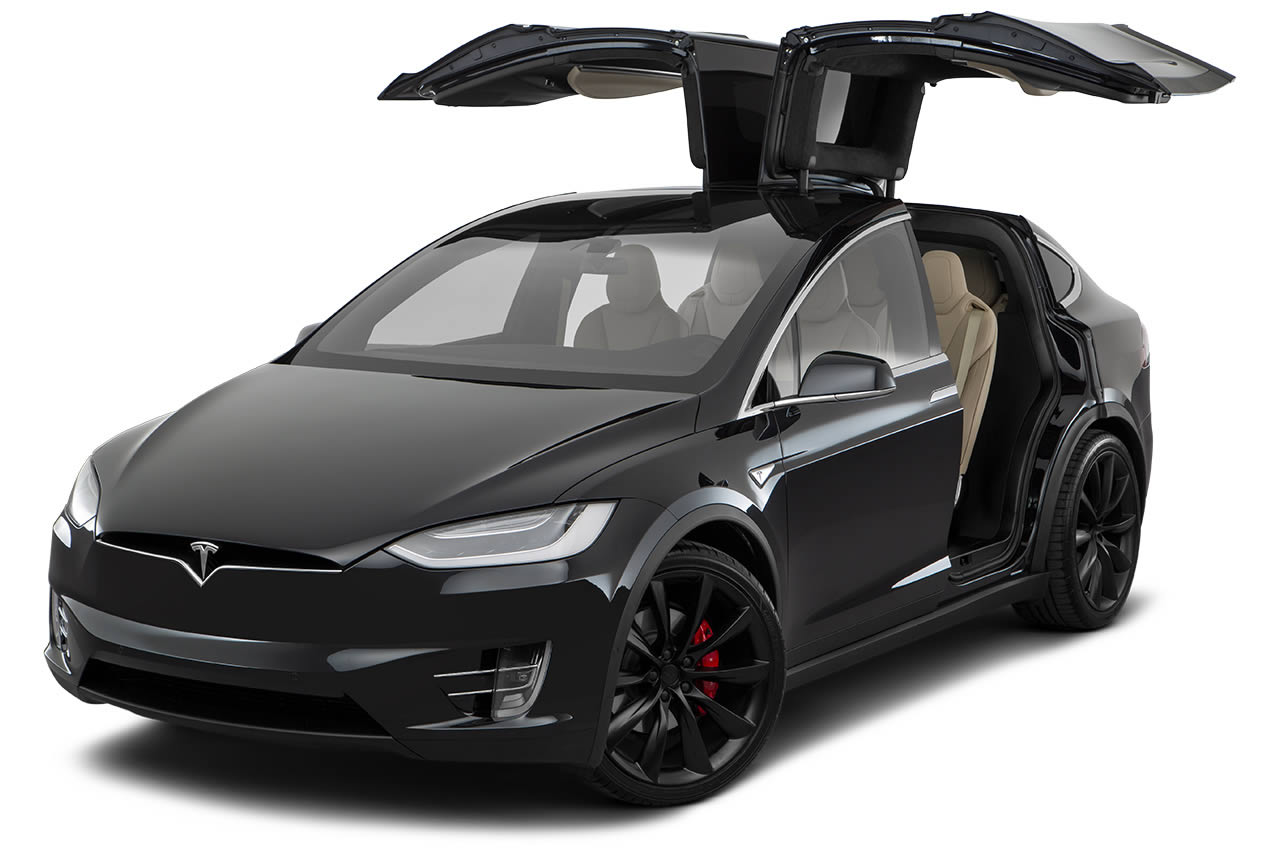 The Tesla Model X is the first SUV vehicle from the American manufacturer.
In 2014, Tesla announced its plan to build a more affordable car called the Model 3 starting at $35,000. The price point and the possibility of being able to own a Tesla car, instantly made Model 3 one of the most sought after cars. Thousands of pre-orders followed. After passing all regulatory requirements, the production of Model S has started in July 2017.
Tesla Model 3: The Features
Tesla Model 3 is designed to be straightforward and useful while maintaining the look and feel of the Tesla brand. Here are some of the distinctive features that are worth noticing:
Dashboard Design
Model 3 dash is clean. And with clean I mean "no dashboard" and "nothing behind the wheel." There is just the 15-inch touchscreen in the middle of the panel and two buttons on the steering wheel. Otherwise, the dashboard is minimalist. At first glance, you will feel nostalgia for all your fancy gauges that you have on your general cars. But Model 3 is designed to become a fully self-driving car in the future. From that perspective, having all the measurement equipment seems redundant.
Fully Ready for Autopilot and Self-Driving
Regarding hardware, Model 3 is ready for the future. The 8-camera and 12-ultrasonic-sensor system come with a fully functional radar unit. For now, Enhanced Autopilot will cost an extra $5,000 and self-driving capability another $3,000 (future release). No hardware update will be necessary for the self-driving feature. However, the release is dependent on government regulations and Tesla's discretion.
Battery "Mileage"
Model 3 can achieve 220 miles of range on a single full charge. With a $9,000 upgrade, you can get 310 miles of range. This update will also improve the performance of 0-60 mph acceleration from 5.6 seconds to 5.1 seconds.
Luxury Features
On-board navigation, Wi-Fi, LTE, keyless entry via Tesla app and wallet-sized chip card as a valet or backup key are standard features. For $5,000, buyers can get glass roof, subwoofer and audio system, heated seating, higher quality cabin decor, docking ports for smartphones and LED fog lights.
Comparison to Model S
While model S is Tesla's premium sedan, the new Model 3 is designed to be the smaller, simpler, and more affordable car for mass market consumption.
From front to back, Model 3 is 11.6-inch shorter than Model S. In the 0-60 mph acceleration performance, Model S is almost two times faster than Model 3.
On a single battery charge, Model 3 provides a range of 220-310 miles while Model S provides 249-335 miles. But Model 3 doesn't have access to free supercharging at Tesla stations... customers have to pay to charge.
The extra length of Model S makes it a more spacious vehicle. Model S can accommodate five adults and two rear-seating children (as an optional feature). But Model 3 is limited to 5 adult-sized individuals and also, half the cargo space in the front and rear trunk.
Model S has an aluminum body with a panoramic sunroof. Model 3 body is a mixture of aluminum and steel. The glass roof is not standard, it is part of the extra options package.
Competition
Tesla considers itself a pioneer in mass market electric cars. Even though it has made great strides, the competitors are breathing down its neck.
Main competitors are the electric and luxury vehicle manufacturers. Both sectors have ramped up their research and development to compete really hard, resulting in many innovative challenges coming in from all fronts:
For luxury fuel/hybrid car manufacturers like BMW, Mercedes, Audi, and Lexus can showcase their feature-rich cars to lure away the buyers from Tesla. Their mantra is simple: "We have more than 60 years history building vehicles, so we have customers to convert into electric." And Volvo announced that starting in 2019, all new vehicles would be fully electric.
And the same for the mass market automakers: Ford, Kia, Volkswagen, Nissan, Chevrolet, Hyundai, and others are coming up with their own electric vehicles (EV). Chevrolet announced Bolt EV with 200 miles range. Nissan Leaf and Hyundai Ioniq are vehicles that have enough performance power to compete against Model 3. Chinese-owned Volvo has announced to go fully electric.
Final Words
Tesla with the help of its charismatic leader Elon Musk has managed to reshape the public perception of what an electric car can be. In fact, they made it work in a way that revolutionized the whole way people drive around every day, and the automotive industry had to seriously consider starting the switch.
Tesla Model 3 is a large step in that direction, but still, the market will determine its long-term success. For now, Tesla Model 3 will be a bright star in the electric vehicle universe.