And I'm sure this won't be the #1 forever, although it is tough to beat. Who wouldn't like to drive a Lexus RX350 for only 140CAD + tax per month in the GTA? Well, that was one of the amazing deals we got listed here back in July and these, where its numbers:
2017 Lexus RX350 Automatic AWD (you can find the full listing here)
Current Payment: 140 CAD/month + tax
Original Downpayment: 15,000 CAD
Residual Value: 34,099 CAD
Months to End: 17 months (Feb, 2020)
Contract Allowance: 17,000 km/year
Current Odometer: 13,700 km total
Available Now: 17,329 km/year (1,444 per month)
Excess Km Cost: 0.20 CAD/km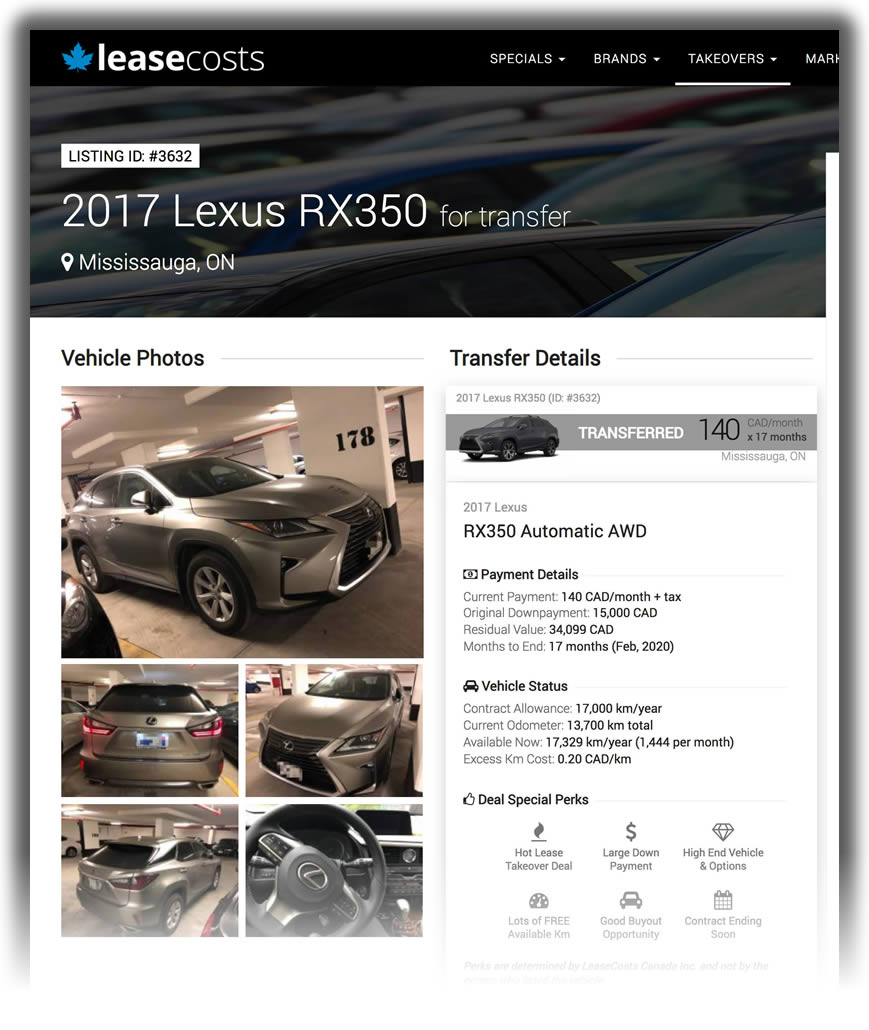 This Mississauga listed Lexus RX350 deal lasted only 24h at our Lease Takeover Marketplace.
The numbers talk by themselves. It was definitely a terrific deal for anyone living in the GTA.
Anatomy of a Good Lease Takeover Deal
While you read these lines, please be aware that I'm playing the role of "the person who is looking for a lease to take," not the one who is transferring a contract. Just assume that I'm someone who has just landed in our Lease Takeover Marketplace and is looking for a deal so good that you have to take it before someone else.
Monthly Payment
This is the #1 indicator. Undoubtfully, the monthly payment is the first and ultimate factor that will influence a buying decision on taking over a lease. About 75% of lease takeover buy decisions are defined by the regular payment (monthly - ).
Remaining Term
After the monthly payment preference, the second and most crucial term requested by our visitors is the remaining term. Most requests and queries to our Lease Explorer filters are commonly seen as follows:
I'm looking for a vehicle in Toronto between 300 and 400 CAD/month and that's no longer than 18 months.
This is just a sample of one of the most popular ways our audience searches for vehicles and asks our customer service staff. If your deal fits this average "search" criteria, you are way more likely to receive multiple phone calls during the first few days of listing it.
Specific Brand/Model
Well, if you are picky, like me, then you know what you are looking for, and you won't be studying every possible option that matches a specific period. For those who love BMWs, Audis, Mercedes... then just go ahead and filter by those manufacturers.
Original Downpayment & Cash Incentive Combination
These are the two principal cash lump sums on a lease takeover deal. Basically, the ones that cover most of the part of the term payment. Dealerships and used car brokers are way more likely to be after these than regular lease takeover clients.
Vehicles with substantial down payments and significant incentives have a big part of the debt paid. That is very useful when it comes to people who drive a lot or for those looking
So, what is your primary search factor? Jump into the Lease Takeover Marketplace and let your desire and our math, guide you through.