When you sign a contract for leasing or renting a vehicle during a determined period, there is always a chance that something happens that will require you to evaluate different alternatives for finalizing it. Here is where the first option comes to your mind: "Can I legally sub lease a car in Canada to someone else?"
Legally, "You" Cannot Sub Lease a Car
Only the dealership mentioned in the contract can do it. No one can legally transfer, assign or sub-lease a vehicle contract to someone else, either an entity or a person. Your contract can be transferred from one person to the other. And in these situations, it is not a "subleasing", it continues to be a leasing contract but now to a different person/entity.
Now, if you have a friend or family with whom you set up a separate agreement to continue paying for the vehicle while she/he uses the car, that is a different fact, but you will still keep being legally bound to the contract and the responsibilities. I'm not referring with this example to the case that you were leasing a vehicle for your daughter/son, I'm explicitly referring to the fact that you leased a vehicle for yourself and someone else wants to drive it regularly while giving you a monthly amount of cash for it.
What you are Looking for is Called "Lease Takeover"
If you want to "sub lease a car", either taking someone else or do it with your current one, then Lease Takeover is the word you are looking for. Also known as Lease Transfer, you are basically looking for someone to assume your current car lease contract and get you free of it.
As I mentioned before, there are multiple reasons for it and, due to the number of Canadians doing car leases every day, it is very common to find people interested to take over someone else lease or transferring their current one to a person who likes the car (and your deal).
You can explore our Lease Takeover Marketplace and see what is being offered by others and you can even post your car there for transfer so then we can show it to everyone looking for a takeover.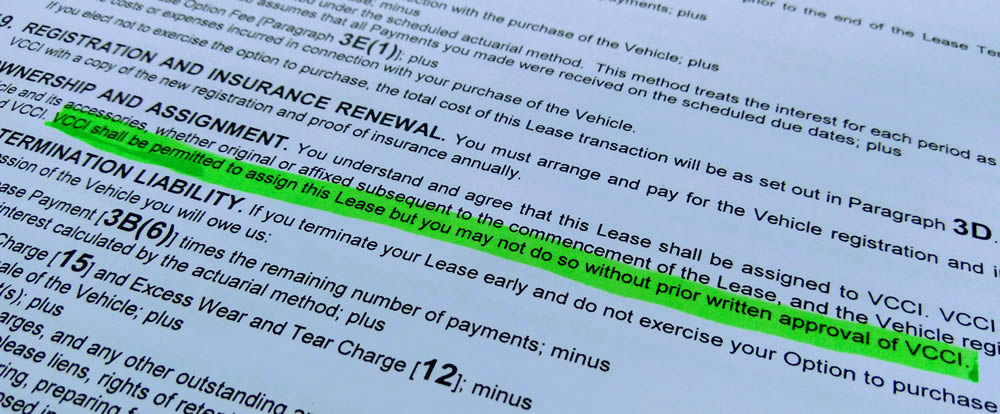 This sample contract from VCCI (Volkswagen Canada Credit Inc.), which takes care of financing & leasing VW models, outlines that "VCCI shall be permitted to assign this Lease, but you may not do so without prior written approval" from them.
A Lease Takeover is a Win-Win-Win-Win
There are 4 actors involved in a Lease Takeover:
The Manufacturer Financing Entity: Who owns the vehicle and the contract.
The Dealership: Who delivers the vehicle and setups all arrangements between you and the Financing Entity.
The person who wants your contract: No clarification needed.
You: Yes, you :)
Basically, every car leasing contract has an "Assignment" clause that allows you to legally assign your current contract to someone else, subject to the dealership and the financing entity approval. Although it may sound like "a problem" to you, it has, in fact, multiple benefits for all parties involved, including them.
In your case, you will transfer "a liability" to someone else who wants it and, both the dealer and the "manufacturer financing entity" will get positive results from a lease takeover:
The Dealership will charge a fee for it: It will take process time, paperwork, a Credit verification for the new person and a meeting to complete the process. But someone (and not them) will cover those costs.
They will do it Only After a Credit Check & Approval: Because the same way you were "trusted" upon your Credit history to be provided with a vehicle under your promise of paying for it, the next person has to prove reliable enough to continue doing the same.
The Brand(Manufacturer)/Dealership gets a (second) new client: And not any kind of client. A client with a good Credit rating, with a contract and with a very high potential of being a returning customer when the contract he/she jumped into, gets to an end.
You Won't Have a Car Anymore: So chances are you will need a new one unless you were transferring yours because don't need one anymore. So, if you are looking for a new car, the first place that will come to your mind for the next one, will likely to be the same one you have always been unless you had a bad experience before.
Don't see it as a problem. It is, in fact, another way the automotive industry has to continue rolling over and growing.
But remember, it is not "sub lease a car" what you need to do, is a "lease takeover."