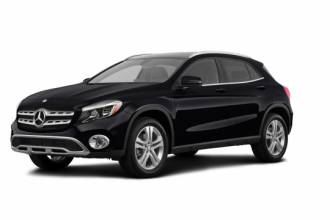 CAD/month x 35 months
2018 Mercedes-Benz GLA250 4MATIC (ID: #4939)
650
Toronto, ON

2018 Mercedes-Benz
GLA250 4MATIC Automatic AWD w/ Lease Protection + Stone Guard + Prepaid Maintenance

Payment Details
Current Payment: 650 CAD/month + tax
Original Downpayment: 3,000 CAD
Residual Value: 21,454 CAD
Months to End: 35 months (Jul, 2022)
Vehicle Status
Contract Allowance: 24,000 km/year
Current Odometer: 16,000 km total
Available Now: 25,371 km/year (2,114 per month)
Excess Km Cost: 0.15 CAD/km
649.99
CAD/month
in Toronto, ON
Before Taxes:

649.99 CAD/month
300.00 CAD/bi-weekly
150.00 CAD/week
7,799.88 CAD/year
Incl. Ontario Taxes (13%):
734.49 CAD/month
338.99 CAD/bi-weekly
169.50 CAD/week
8,813.86 CAD/year
Estimate Insurance Costs
Avoid surprises and lock your insurance offer now! Quote how much you will have to pay and get the best insurance company to bid for your contract.
powered by

The Lease Takeover Analysis "Leasing Purposes" section is an impartial review made by a Lease Takeover Specialist from LeaseCosts Canada Inc. and should be used as reference. Learn more.
For Leasing Purposes
With this deal, you are saving:
3,215 ~ 4,115 CAD
compared to leasing a BRAND NEW:
Mercedes-Benz GLA250M
for 36 months
in Ontario
$0 down payment
24,000 km/year
Savings Breakdown:

| | |
| --- | --- |
| Leasing New (CAD/month) | 718 |
| This Contract (CAD/month) | 650 |
| Monthly Difference | 69 CAD/month |
| Remaining Term | x 35 months |
| Total Monthly Difference | = 2,415 CAD |
| + Wear & Tear Coverage (CAD) | + 800 ~ 1,700 |
| Total Savings (CAD) | = 3,215 ~ 4,115 |
For Buyout Purposes
To own this vehicle today (buying it as a used car) would cost:
44,203 CAD
Total Vehicle Debt: 53,703 CAD
Paid so Far: 9,500 CAD (17% Paid)
Remaining Lease Payments: 22,750 CAD
Residual Value: 21,454 CAD
Cash Incentive: 0 CAD
Vehicle Debt & Value
Paid so far: 9,500 CAD
Total Vehicle Value: 53,703 CAD
Vehicle Debt Breakdown
Downpayment: 3,000 CAD
Remaining Term: 22,750 CAD
Term Paid so Far: 6,500 CAD
Residual Value: 21,454 CAD
Cost to Own
Already Paid: 9,500 CAD
Cash Incentive: 0 CAD Buyout Price Today: 44,203 CAD
Finance the remaining Debt Today
Remaining Term + Residual Value: 44,203 CAD
2.9%

Interest Rate x 48 months
976 CAD/month + tax
Total Payable: 46,870 CAD
Total Interest: 2,667 CAD
4.9%

Interest Rate x 48 months
1,016 CAD/month + tax
Total Payable: 48,767 CAD
Total Interest: 4,563 CAD
5.9%

Interest Rate x 48 months
1,036 CAD/month + tax
Total Payable: 49,733 CAD
Total Interest: 5,529 CAD
---
At the end of the Lease Contract
Residual Value: 21,454 CAD (in 35 months)
2.9%

Interest Rate x 48 months
474 CAD/month + tax
Total Payable: 22,748 CAD
Total Interest: 1,294 CAD
4.9%

Interest Rate x 48 months
493 CAD/month + tax
Total Payable: 23,669 CAD
Total Interest: 2,215 CAD
5.9%

Interest Rate x 48 months
503 CAD/month + tax
Total Payable: 24,137 CAD
Total Interest: 2,683 CAD
Name: Marie Park
Location: Toronto, ON
Phone:

647-701

-XXXX (REVEAL NUMBER)
Email Address:

marosa.jhp

[at]

gmail.com

Date Contract Started:
Date Contract Ends:
More info available, contact me!
Burlington and area.

CarFax Lien Report (with the Contract Details) -> https://vhr.carfax.ca/main?id=QRasGoqkJlxhstLksSHCdT%2bNGZRjHy5Z