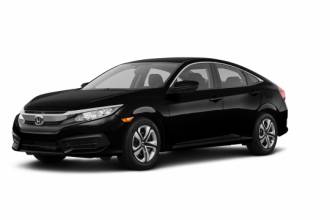 CAD/month x 52 months
2018 Honda Civic LX (ID: #4023)
294
2018 Honda
Civic LX CVT 2WD w/ Warranty Complete Term + Wear & Tear Coverage
Payment Details
Current Payment: 294 CAD/month + tax
Original Downpayment: 663 CAD
Residual Value: 7,332 CAD
Months to End: 52 months (Oct, 2023)
Vehicle Status
Contract Allowance: 24,600 km/year
Current Odometer: 6,230 km total
Available Now: 26,947 km/year (2,246 per month)
Excess Km Cost: 0.12 CAD/km
Deal Special Perks
Perks are determined by LeaseCosts Canada Inc. and not by the person who listed the vehicle.
Contact Buyer
294.00
CAD/month
in Winnipeg, MB
Before Taxes:

294.00 CAD/month
135.69 CAD/bi-weekly
67.85 CAD/week
3,528.00 CAD/year
Incl. Manitoba Taxes (13%):
332.22 CAD/month
153.33 CAD/bi-weekly
76.67 CAD/week
3,986.64 CAD/year
Estimate Insurance Costs
Avoid surprises and lock your insurance offer now! Quote how much you will have to pay and get the best insurance company to bid for your contract.
powered by

The Lease Takeover Analysis "Leasing Purposes" section is an impartial review made by a Lease Takeover Specialist from LeaseCosts Canada Inc. and should be used as reference. Learn more.
For Leasing Purposes
With this deal, you are saving:
2,672 ~ 3,572 CAD
compared to leasing a BRAND NEW:
Civic Sedan LX w/ Extended Warranty 5 years & 130,000km
for 54 months
in Manitoba
$0 down payment
24,000 km/year
Savings Breakdown:

| | |
| --- | --- |
| Leasing New (CAD/month) | 330 |
| This Contract (CAD/month) | 294 |
| Monthly Difference | 36 CAD/month |
| Remaining Term | x 52 months |
| Total Monthly Difference | = 1,872 CAD |
| + Wear & Tear Coverage (CAD) | + 800 ~ 1,700 |
| Total Savings (CAD) | = 2,672 ~ 3,572 |
For Buyout Purposes
To own this vehicle today (buying it as a used car) would cost:
22,620 CAD
Total Vehicle Debt: 25,635 CAD
Paid so Far: 3,015 CAD (11% Paid)
Remaining Lease Payments: 15,288 CAD
Residual Value: 7,332 CAD
Cash Incentive: 0 CAD
Vehicle Debt & Value
Paid so far: 3,015 CAD
Total Vehicle Value: 25,635 CAD
Vehicle Debt Breakdown
Downpayment: 663 CAD
Remaining Term: 15,288 CAD
Term Paid so Far: 2,352 CAD
Residual Value: 7,332 CAD
Cost to Own
Already Paid: 3,015 CAD
Cash Incentive: 0 CAD Buyout Price Today: 22,620 CAD
Finance the remaining Debt Today
Remaining Term + Residual Value: 22,620 CAD
2.9%

Interest Rate x 48 months
500 CAD/month + tax
Total Payable: 23,985 CAD
Total Interest: 1,365 CAD
4.9%

Interest Rate x 48 months
520 CAD/month + tax
Total Payable: 24,955 CAD
Total Interest: 2,335 CAD
5.9%

Interest Rate x 48 months
530 CAD/month + tax
Total Payable: 25,449 CAD
Total Interest: 2,829 CAD
---
At the end of the Lease Contract
Residual Value: 7,332 CAD (in 52 months)
2.9%

Interest Rate x 48 months
162 CAD/month + tax
Total Payable: 7,774 CAD
Total Interest: 442 CAD
4.9%

Interest Rate x 48 months
169 CAD/month + tax
Total Payable: 8,089 CAD
Total Interest: 757 CAD
5.9%

Interest Rate x 48 months
172 CAD/month + tax
Total Payable: 8,249 CAD
Total Interest: 917 CAD
Name: Ahmed Abdelrahman
Location: Winnipeg, MB
Phone:

204-890

-XXXX (REVEAL NUMBER)
Email Address:

ahmaduoft

[at]

gmail.com

Date Contract Started:
Date Contract Ends:
*ACTUAL PHOTOS* Employee used demo included full term warranty and Honda Lease Guard covers wear& tear, Paint Armour, Interior Armour, tires and rim protection plans of $9600 benefit so you don't have to worry about anything when the return time comes. This model comes with A/C, Bluetooth, USB, heated seats, apple car play/ Android auto, Econ save gas feature, backup camera etc. Bought last month (Oct 2018) but I have to move to the US for a new job. I got that amazing deal that one can rarely find from Birchwood Honda. $333 a month including taxes and all protection plans.

More info:
Paint Armour = https://youtu.be/XnSHy6R-DH4
Interior Armour = https://youtu.be/vedEscO2Z0g