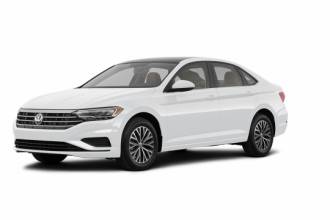 CAD/month x 25 months
2019 Volkswagen Jetta Comfortline (ID: #3737)
304
2019 Volkswagen
Jetta Comfortline Manual 2WD + Lease Guard (Covers up to $10,000)
Payment Details
Current Payment: 304 CAD/month + tax
Cash Incentive: 500 CAD
Payment After Incentive:

284 CAD/month + tax

Residual Value: 11,547 CAD
Months to End: 25 months (Jul, 2021)
Vehicle Status
Contract Allowance: 20,000 km/year
Current Odometer: 500 km total
Available Now: 28,560 km/year (2,380 per month)
Excess Km Cost: 0.12 CAD/km
Deal Special Perks
Perks are determined by LeaseCosts Canada Inc. and not by the person who listed the vehicle.
Contact Buyer
304.41
CAD/month
in Toronto, ON
Before Taxes:

304.41 CAD/month
140.50 CAD/bi-weekly
70.25 CAD/week
3,652.92 CAD/year
Incl. Ontario Taxes (13%):
343.98 CAD/month
158.76 CAD/bi-weekly
79.38 CAD/week
4,127.80 CAD/year
Estimate Insurance Costs
Avoid surprises and lock your insurance offer now! Quote how much you will have to pay and get the best insurance company to bid for your contract.
powered by

The Lease Takeover Analysis "Leasing Purposes" section is an impartial review made by a Lease Takeover Specialist from LeaseCosts Canada Inc. and should be used as reference. Learn more.
For Leasing Purposes
With this deal, you are saving:
2,725 ~ 4,025 CAD
compared to leasing a BRAND NEW:
VW Jetta Comfortline Manual
for 36 months
in Ontario
$0 down payment
20,000 km/year
Savings Breakdown:

| | |
| --- | --- |
| Leasing New (CAD/month) | 329 |
| This Contract (CAD/month) | 304 |
| Monthly Difference | 25 CAD/month |
| Remaining Term | x 25 months |
| Total Monthly Difference | = 625 CAD |
| + Cash Incentive** (CAD) | + 500 |
| + Winter Tires Cost (CAD) | + 800 ~ 1,200 |
| + Wear & Tear Coverage (CAD) | + 800 ~ 1,700 |
| Total Savings (CAD) | = 2,725 ~ 4,025 |
| | ** "Cash Incentive" is not just a saving, it is physical money. |
For Buyout Purposes
To own this vehicle today (buying it as a used car) would cost:
18,657 CAD
Total Vehicle Debt: 22,506 CAD
Paid so Far: 3,349 CAD (14% Paid)
Remaining Lease Payments: 7,610 CAD
Residual Value: 11,547 CAD
Cash Incentive: 500 CAD
Vehicle Debt & Value
Paid so far: 3,349 CAD
Total Vehicle Value: 22,506 CAD
Vehicle Debt Breakdown
Downpayment: 0 CAD
Remaining Term: 7,610 CAD
Term Paid so Far: 3,349 CAD
Residual Value: 11,547 CAD
Cost to Own
Already Paid: 3,349 CAD
Cash Incentive: 500 CAD Buyout Price Today: 18,657 CAD
Finance the remaining Debt Today
Remaining Term + Residual Value: 18,657 CAD
2.9%

Interest Rate x 48 months
412 CAD/month + tax
Total Payable: 19,783 CAD
Total Interest: 1,126 CAD
4.9%

Interest Rate x 48 months
429 CAD/month + tax
Total Payable: 20,584 CAD
Total Interest: 1,926 CAD
5.9%

Interest Rate x 48 months
437 CAD/month + tax
Total Payable: 20,991 CAD
Total Interest: 2,334 CAD
---
At the end of the Lease Contract
Residual Value: 11,547 CAD (in 25 months)
2.9%

Interest Rate x 48 months
255 CAD/month + tax
Total Payable: 12,244 CAD
Total Interest: 697 CAD
4.9%

Interest Rate x 48 months
265 CAD/month + tax
Total Payable: 12,739 CAD
Total Interest: 1,192 CAD
5.9%

Interest Rate x 48 months
271 CAD/month + tax
Total Payable: 12,992 CAD
Total Interest: 1,444 CAD